Dede Addy, a Ph.D. candidate in the School of Education, has won an AERA Minority Dissertation Fellowship to support her research in literacy among middle class black families.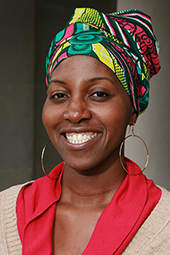 Addy, who is pursuing her doctorate in the Culture, Curriculum and Change research strand, will receive a $19,000 stipend to support her while she completes her dissertation. Addy will also receive a travel award, enabling her to attend the 2015 American Educational Research Association's annual meeting in Chicago in April where she will make a presentation on her work.
Addy was one of nine graduate students from around the country selected for the award. The program is aimed at supporting members of racial and ethnic groups historically underrepresented in higher education. It offers doctoral fellowships to outstanding minority graduate students and provides mentoring and guidance toward the completion of their doctoral studies.
An important aim of the fellowship is to enhance the diversity of faculty at major research universities. Fellows also participate in a mentoring and career development workshop with current and former members of the AERA Minority Fellowship Selection Committee and other senior scholars.
"AERA is committed to improving the quality and diversity of university faculty and researchers," AERA Executive Director Felice J. Levine said in a news release announcing the fellowships. "Through robust support of minority scholars, this significant program continues to advance that goal."
Addy is a native of Michigan who grew up as the child of Ghanian immigrants in a household where two languages – English and Ga – were regularly spoken. The experience led to her interest in literacy and language acquisition.
She majored in linguistics at Duke University and before entering graduate school worked in a lab coordinator in multiple developmental psychology labs, spanning the areas of language acquisition, brain development, and spatial and numerical cognition.
Addy's dissertation is entitled "Early Language and Literacy Beliefs and Practices in Middle-Class Black Families."