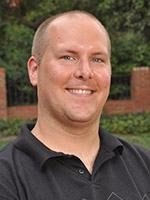 Mike Caprino, a Ph.D. candidate in educational psychology, measurement and evaluation, has won the 2014 Marvin Wyne Outstanding Paper Award from the North Carolina Association for Research in Education.
The award was presented at the annual meeting of NCARE, held Feb. 12-13 in Winston-Salem.
Caprino's paper – entitled "The Implications of Teacher Motivation for Educational Administrators and Policymakers" – argues that teacher motivation and its role in how teachers teach have not received enough attention from researchers. The paper proposes a conceptual framework to provide directions for new research, as well as recommendations for educational policymakers and administrators.
Caprino, a former school psychologist who is a Royster Fellow at Carolina, has several research interests. He is interested in how to leverage research into student motivation to optimize learning environments. He also is interested in self-regulated learning, looking at how students can more effectively plan, monitor and control their learning.
Entries for the Marvin Wyne Outstanding Paper Award are evaluated upon the following criteria: significance, rationale and literature review, method, presentation of the findings, discussion of the implications, and quality of the writing.
The award is named for Marvin Wyne, who was a professor of special education at the School of Education for 20 years, until his death in 1987.
NCARE works to improve the quality of education in North Carolina through research and evaluation. Established in 1974, NCARE includes teachers, principals, school system administrators, university faculty and staff, graduate students, staff of the Department of Public Instruction, members of local educational agencies, and people working in private research organizations.