Susan Friel was named the School of Education's McMichael Term Professor, becoming the third faculty member to hold the professorship.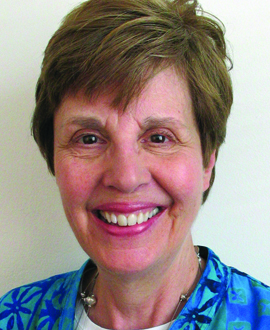 During a 40-year career, Friel has worked as a classroom teacher and researcher, focusing on improving the teaching of mathematics in elementary and middle schools. She joined the School of Education in 1990, serving as director of the N.C. Mathematics and Science Network for five years.
Friel has been active for several decades in the National Council for Teachers of Mathematics and has served as a reviewer and advisor for the National Science Foundation. She serves as program coordinator for the Master's for Experienced Teachers program.
She is the co-author of three published curricula: "Used Numbers," a statistics and data analysis program for K-5 students; "Teach-Stat Project," a professional development program in statistics and data analysis for elementary teachers; and the "Connected Mathematics Program," a middle grades 6-8 mathematics curriculum.
Friel is co-author of "Cases in Mathematics Teacher Education: Tools for Developing Knowledge Needed for Teaching," which was published earlier this year.
The McMichael Professorship is intended to recognize and support the teaching and research of a deserving member of the faculty of the University of North Carolina at Chapel Hill School of Education. The recipient receives a stipend during each year he or she holds the professorship. The professorship carries a two-year term.
Previous holders of the McMichael Term Professorship were Bill Ware and Judith Meece.
The McMichael Term Professorship is funded by an endowment established by the McMichael Family Foundation, which was created from the trust of Rockingham County businessman Dalton L. McMichael, Sr. McMichael, who died in 2001, had a 60-year career as a textile industry entrepreneur and was a longtime supporter of education, including service on the UNC-Chapel Hill Board of Trustees. Since his death, the foundation has been run by McMichael's children.
The professorship was the result of the vision of Louise "Lou" Miracle, daughter of McMichael and a 1972 graduate of the School of Education's elementary education program. She died in 2008.