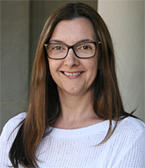 Dalila Dragnic-Cindric, a first-year doctoral student in the Learning Sciences and Psychological Studies strand of the Ph.D. program, has won a prestigious National Science Foundation Graduate Research Fellowship.
The NSF's Graduate Research Fellowship is a competitive program designed to support promising STEM researchers. It has a long history of selecting recipients who achieve high levels of success. Past fellows include Nobel Prize winners, U.S. Secretary of Energy Steven Chu, Google founder Sergey Brin and Freakonomics co-author Steven Levitt.
Janice Anderson, assistant professor of science education and Dragnic-Cindric's advisor, said she was excited that the NSF had recognized Dragnic-Cindric's work and her potential for making future contributions in the field.
"Dalila has already begun to make an impact within the School of Education through her work on the Biosphere Grant and the iPadagogy project," Anderson said, referring to two School of Education projects. "We see this award as providing her with the opportunity to become a future leader within the larger learning sciences community."
Dragnic-Cindric is a native of Bosnia who escaped the siege of Sarajevo in 1995 during the Bosnian War and emigrated to North Carolina. She obtained a bachelor's degree in physics with honors from North Carolina Central University then a master's of engineering management from Duke University.
She has worked as a research and development engineer at Duke University Medical Center, working on cancer research. After obtaining her master's degree, she worked at IBM and Lenovo, rising to become a senior project manager leading teams working to solve interdisciplinary problems.
She became interested in improving P-12 education after volunteering in her son's first grade classroom and seeing the importance of better understandings of how children learn. After participating in the Endeavor STEM teaching certificate program supported by NASA, Dragnic-Cindric developed a STEM enrichment program for second graders.
She joined the Learning Sciences and Psychological Studies Ph.D. program this year. She intends to study how to better incorporate technology in science education and to create authentic learning experiences for students, with an emphasis on meeting the needs of under-represented and rural students.
The NSF's Graduate Research Fellowship, which received 17,000 applications this year, was awarded to 2,000 people. It provides a three-year annual stipend of $34,000 and an annual $12,000 cost of education allowance.
More than 40 fellows have gone on to become Nobel laureates, and more than 450 have become members of the National Academy of Sciences. In addition, the Graduate Research Fellowship Program has a high rate of doctorate degree completion, with more than 70 percent of students completing their doctorates within 11 years.