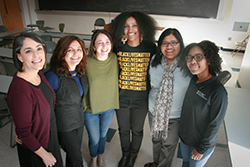 Two groups led by School of Education students have won CUBE Social Innovation Challenge grants to create interventions aimed at addressing societal problems.
The competitive grants were awarded by UNC's Social Innovation Initiative, a program that encourages and supports Carolina student, faculty and staff teams who design efforts to tackle a social injustice.
Teams selected for the program receive a two-year residence in the CUBE, a center within the Campus Y. CUBE ventures are provided coworking space, $5,000 in seed funding, mentorship and capacity-building workshops and other support and feedback.

Working to build healthy racial identities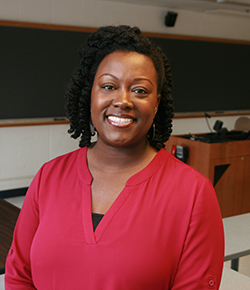 Doctoral student Ronda Bullock organized a group called "we are" – working to extend anti-racist education – that was awarded a CUBE grant and residency to support its proposal to provide trainings for students in kindergarten through high school. The sessions will be aimed at equipping students, parents and educators with knowledge and skills needed to understand the complexity of racism and to extend anti-racist education.
The sessions will be oriented toward white students and adults. The proposal from we are cites objectives, including: fostering healthy racial identities, building understandings of racial constructs, promoting engagement and alliances with people of color, equipping families with tools to extend anti-racist practices in their homes and communities, and researching the effectiveness of the trainings.
The we are team includes Taylor and other School of Education doctoral students Beth Coleman, Fabiola Salas Villalobos, Sarah Bausell and Cherish Williams. Other members are Sharbari Dey of Carolina's Diversity and Multicultural Affairs Office, Daniel Kelvin Bullock, Charles Campbell, Howie Machtinger and Addison Malone.
We are holds affiliations with Duke University's Samuel DuBois Cook Center on Social Equity and N.C. Central's School of Education.
We are organized a conference in March entitled "Let's Talk Racism: Dismantling Racism in Our Schools" that was held at N.C. Central University.
We are has established a Go Fund Me page to accept donations to help support the group's work.
More about the UNC Social Innovation Initiative
Working to disrupt the school-to-prison pipeline
Students Training for Educational and Personal Success – or STEPS – is being created by a team led by Letanya Love, a doctoral student in school psychology who has worked as a prison psychologist for more than a decade.
The team also includes social worker Kimberly Newsome, a graphic designer and advisor Steve Knotek, a School of Education faculty member. Love said she will be recruiting three or four facilitators during the coming year.
STEPS is working to establish a ten-week school-based group intervention program that will work with black male high school students with a history of physical or verbal aggression. The intervention is designed to use proven cognitive-behavioral modification techniques to help participants process their thoughts and feelings and to develop stronger self-control. Parents and other caretakers will be invited to take part in training sessions designed for them.
Love said she hopes to pilot the program at a high school in Wake County or Durham County by the end of the CUBE residency.
In her proposal, Love pointed to black students' disproportionate rates of suspension and expulsion from school, especially among black males. In Wake and Durham schools, between 5 percent and 7 percent of students are suspended or expelled each year, with black males being the overwhelming majority. The suspensions spike in the ninth grade, with many of these students dropping out of school.
Intervention programs are needed to help black males avoid the long-term negative consequences of suspension and expulsion, which include higher dropout and delinquency rates, Love said.