Tom James, a former dean of the School of Education, has been selected to receive the 2016 Kurt Hahn Award, the highest honor given by Outward Bound, the leading provider of experience-based outdoor leadership programs.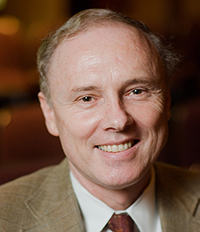 James, provost and dean of Columbia University's Teachers College, will be given the award next month at Outward Bound's annual awards banquet in New York City.
James led Carolina's School of Education for four years until 2007 when he took the position at Columbia. During his time at Carolina, he was instrumental in establishing the School of Education's ties with the North Carolina Outward Bound School, including development of the N.C. Outward Bound School Educators' Initiative which provides experiential education experiences for students in the Master of Education for Experienced Teachers program.
James has been deeply involved with Outward Bound over the course of four decades and has written extensively about Kurt Hahn, the founder of Outward Bound.
James has been described as Outward Bound's leading and most eloquent chronicler of its teaching and learning approach, and how that approach is rooted in the work and ideals of Hahn.