Maurice "Mo" Green, executive director of the Z. Smith Reynolds Foundation, will provide the Commencement address at the School of Education's graduation exercises on May 13.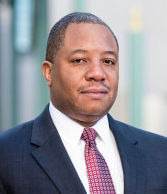 Green joined the Z. Smith Reynolds Foundation last year, after working for 15 years in education, most recently as superintendent of Guilford County Schools. The Z. Smith Reynolds Foundation, as one of state's largest charitable foundations, is a leader in work to improve the quality of life of North Carolinians.
"We're delighted that our graduates and their families will hear from Mo Green at their Commencement," said Fouad Abd-El-Khalick, dean of the School of Education. "He has extensive experience in education leadership and now, through his new position, has gained extensive understanding of North Carolina's statewide needs and emerging opportunities."
Green worked for seven years as schools superintendent in Guilford County, the third-largest school district in North Carolina. In that position he oversaw more than 72,000 students, 127 schools, approximately 10,000 employees and a budget of more than $600 million. Green led the process of completing the district's first-ever strategic plan, and launched a second, both of which have resulted in notable outcomes such as increased graduation rates and other impressive student achievements, both academic and non-academic.
Before joining Guilford County Schools, Green worked at Charlotte-Mecklenburg Schools, beginning in 2001 as general counsel. In 2006, he was named chief operating officer and later moved into the role of deputy superintendent with his duties including running the day-to-day operations of the district, with 135,000 students, nearly 18,000 employees and a $1.17 billion budget.
In 2014, Green was named the Distinguished Educator by the North Carolina Association for Supervision and Curriculum Development. He was also recognized by two community organizations in 2013, including the Education Award presented by the Phi Beta Sigma Fraternity and the Public Service Award from the Greensboro Regional Realtors Association. In 2011, he was selected to receive the Bob Grossman Leadership in School Communications Award given by the National School Public Relations Association.
Green has a bachelor's degree in political science and economics and a law degree, both from Duke University. He began his career as a lawyer in private practice after doing two United States judicial clerkships.
The School's Commencement ceremony will begin at 1 p.m. in the Dean E. Smith Center.