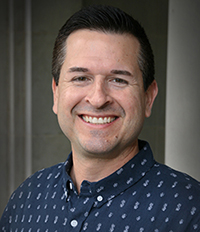 A team that includes School of Education faculty member Robert Martinez has won a UNC-Chapel Hill Felix Harvey Award to Advance Institutional Priorities. Funding with the award will be used to create resources to help teachers, other school personnel and social workers meet the needs of foster children.
The Harvey Award was established to reflects a core Carolina value – serving the public good – by recognizing exemplary faculty scholarship that addresses real-world challenges and reflects the University's commitment to entrepreneurship and innovation.
The team includes Martinez, Molly Berkoff, associate professor of pediatrics and medical director of the Child Medical Evaluation Program and Child Protection Team in the School of Medicine, and Laura Phipps, clinical assistant professor at the Family and Children's Resource Program at the Jordan Institute for Families at the School of Social Work.
With the $73,650 that comes with the award, the team will develop an online training toolkit to guide educators and child welfare social workers as they assist foster care children and advocate for their academic needs.
Some studies show that less than 60 percent of students in foster care finish high school, and among those who do, only 3 percent pursue postsecondary education. Though North Carolina currently has a strong child welfare system, there are no training tools focused on the specific academic needs of foster children. This project will assist with development of resources for both child welfare and the North Carolina school system to use in local districts.
Martinez said it was important for people working with foster youth to recognize the strengths and "cultural capital" foster youth have and to build from those assets. Foster youth often have persevered through many difficulties, have highly developed emotional IQs, and frequently have extensive experience navigating bureaucratic systems, he said.
"Regardless of all of the obstacles and barriers they have encountered, they still have aspirations for postsecondary education and career and job happiness," Martinez said.
Understanding foster youth needs
Before they can help foster youth reach for academic goals, educators and social workers need to have a deeper understanding of the traumas foster youth often have endured, said Martinez, who was a foster child himself.
"The only way you can do that is to focus on those basic needs that are not being met, which is understanding the trauma that these students have experienced," Martinez said. "If you can't provide those services first, then they can't see beyond what they need to manage in the present."
Earlier in his career, Martinez worked in Los Angeles, training people to work with foster families and youth. He then joined the Los Angeles Unified School District where he worked to provide services for approximately 25,000 foster youth.
"Relationships go a long way with these youth," Martinez said. "You don't just look at them as a problem or suffering from trauma all the time. You look at these other aspects that can help them in the classroom. That's where these trauma inform programming and practices when it comes to supporting them."
Teachers need lesson plans and curricula that take into account foster youths' needs," he said.
"Even though we're focusing on foster youth, it helps really inform teachers about how they can help all youth in the school," Martinez said.
Resources to go online
North Carolina has approximately 10,000 children in foster care each year. A major focus of the team is creation of an online toolkit that will help social workers, teachers and school administrators meet their educational needs.
The Every Student Succeeds Act (ESSA) requires U.S. public schools to ensure the educational stability of foster youth students.
The team will work with Wake County Child Welfare and two school systems to create the tools. A graduate student will be hired to work as a program manager who will support and coordinate the development of the toolkit.
The toolkit will include resources to help child welfare social workers assess whether a child needs to be maintained in their school of origin, how to avoid delays in enrollment for children switching schools as well as how to best advocate for children's academic needs. For educators, the toolkit will assist in how to create a "trauma-informed" classroom and guidance for how to identify trauma symptoms in a child.
Once developed, the toolkit will be make available for distribution to all county child welfare agencies in North Carolina
Martinez said focus group interviews will inform development of the resources and modifications made for different users, such as social workers and teachers.
"Then we plan to model it for the rest of the states in the South and eventually nationwide," Martinez said.
Two Felix Harvey Awards were given this year through the generosity of the McNairy Foundation and the C. Felix Harvey Award endowment. Another award went to Alice Ammerman, director of the Center for Health Promotion and Disease Prevention and professor of nutrition, Gillings School of Global Public Health and School of Medicine. She will lead a coalition of community partners to increase access to healthy food for low-income consumers.
The late C. Felix Harvey was chairman of Harvey Enterprises & Affiliates and founder of the Little Bank Inc., both in Kinston, N.C. A 1943 Carolina graduate, he joined his family in 2007 to endow the award with a $2 million commitment. Five generations of Harveys have earned UNC-Chapel Hill degrees.