Students in the Human Development and Family Studies program in the UNC School of Education are learning that the program's internships are offering them not only valuable experience, but also leads on jobs after they graduate in May.
"I cannot envision the program taking any other direction than having this culminating experience of an internship of our choice," said Brittany Butts, who interned at the nonprofit ReCity in Durham and has been accepted to graduate school.
The School of Education launched the HDFS major in 2016. Students spend the final semester of their senior year exploring an area of HDFS that they are passionate about, contributing skills they've honed through the major as well as developing new ones.
Helyne Frederick, HDFS program director, said that other social science programs – such as psychology and sociology – offer internships, but they are optional. She said the HDFS program stands out because its required internship lets students get real-world experience beyond what a service learning course might provide.
"It's really important because one of the things that HDFS tries to do is prevention education, and to give students a lot of hands-on experience to work with children, families and communities," Frederick said.
And with the HDFS field being so broad, Frederick said the internship requirement also helps students to hone in on an area where they would really like to focus, as well as help them identify their strengths and target new professional skills they want to develop.
"It helps them to do some more professional and self-discovery at the same time," she said.
All reputable HDFS programs have an internship as a component to the program of study, said Sharon Palsha, clinical associate professor and one of the faculty internship supervisors in the HDFS program.
Palsha, who earned her doctoral degree from the School of Education in 1985 and previously worked as an investigator with the Frank Porter Graham Child Development Center, used relationships she had with programs and agencies in the area to help establish internship partnerships for students.
The HDFS course of studies also includes an internship planning class that helps students explore, choose and interview for an internship that best suits their particular interests. Palsha said the students have impressed her and their site supervisors, and that many of the supervisors are anxious to have other interns from the HDFS program.
Several students have been offered jobs with the agencies where they interned this semester, Palsha said. Many others have been accepted into graduate school for education, occupational therapy, and speech language pathology, she said.
"I'm just so very excited for all of them and the experiences they've had," Palsha said.
Greater exposure, greater knowledge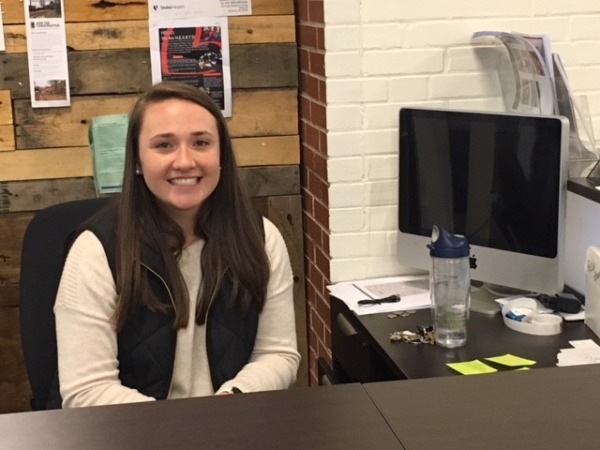 HDFS student Brittany Butts at her desk at ReCity of Durham
Brittany Butts
has been accepted into the Memphis Teachers Residency, where she-ll earn a master's degree in urban education. She wants to teach students in urban communities and help address some of the inequities in schools there, such as larger class sizes and fewer educational resources.
But she says she's already gotten a head start on learning about some of those inequities through her internship at ReCity of Durham, a collaborative community network of organizations that helps address inequities across the city. ReCity works with partner organizations to address problems for various sectors of the community, such as the homeless population, the unemployed or people struggling with drug abuse.
Butts is literally the face of ReCity – visit the organization-s website and her face pops up asking how she can help – and she provides administrative and communicative support for ReCity-s partner organizations.
Butts said she's learned a lot about valuing the holistic education of a child during her time at UNC and as an HDFS major. It involves partnering with communities, families and peers – something she said has been reinforced during her time at ReCity.
"I've really just gained greater exposure into the kind of services that are available within the community and gained a greater knowledge of how you begin to form those partnerships," Butts said.
A comforting face in a new place
HDFS student Hannah Thomas poses in front of a poster for World Relief Durham
At World Relief in Durham, Hannah Thomas is an occupational therapist in the making as she helps refugees get settled in their new homes.
Thomas has known since high school that she wanted to be an occupational therapist. She grew up in Kosovo where her parents served as missionaries. Thomas was good friends with a young girl who had cerebral palsy. Through that friendship, she became acclimated with the disability community and was familiar with what she called the extreme lack of resources available to people with disabilities.
But she wasn-t sure which undergraduate major would be the appropriate springboard into a master-s program for occupational therapy. And then her academic advisor told her about HDFS during her sophomore year.
"A big part of the major was the fact that there was an internship your last semester," said Thomas, who will start her graduate program in occupational therapy at UNC in the fall. "So, I-ve been looking forward to this internship for a while, since I heard about it."
Working with refugee families at World Relief underscores her passion for international mission work. It also lets her explore a realm of occupational therapy that does not involve people with disabilities, but rather those with cultural language barriers. Thomas works with World Relief-s resettlement case managers, helping refugees navigate daily tasks such as riding the bus, applying for a social security card, enrolling their children in school and making health appointments.
Thomas said she wrote about her experience at World Relief in her applications to graduate schools, and how occupational therapy was applicable in that setting.
Emma Grant, a case and match grant specialist at World Relief, said Thomas has seamlessly fit in with the team there.
"One of the most notable things I think about Hannah is her ability to bond with our clients," Grant said, "and just form a really strong relationship, and one that comforts our clients and makes them feel like they're in good hands when they-re with us. "Because being in a new place, not knowing the language can be very daunting."
HDFS student Anthony Aswad posese wearing scrubs during his shift at UNC Hospitals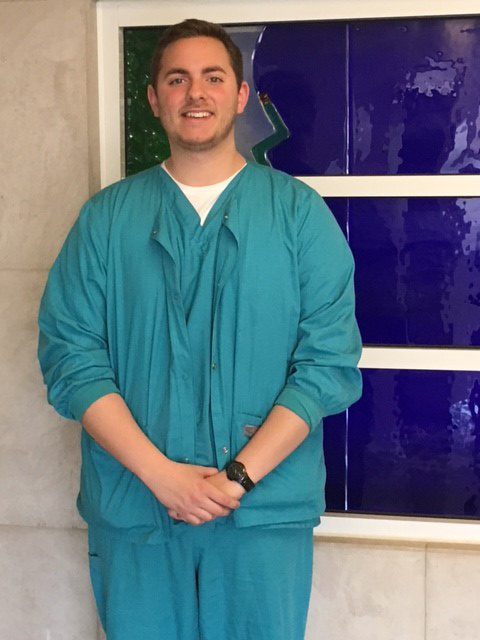 At UNC Hospitals, Anthony Aswad helps some of the youngest patients face daunting situations.
As a child life intern, Aswad makes life as comfortable as possible for children in the burn unit. Sometimes that involves helping them practice breathing techniques as the dressings on their wounds are being changed. Other times he entertains children with "sock monkeys" or other toys to take their mind off their stressful health conditions. It-s all about reassuring the children and helping them to relax.
"We provide kids the opportunity to be kids while they're in the hospital," Aswad said.
Aswad chose HDFS as a major because he loves working with children. He has previously volunteered with the UNC Hospital School, so interning as a Child Life Specialist – a health care professional who works with children in medical settings – was a natural choice for him when it came time to choose an internship.
The best part of Aswad-s internship: he'll be certified as a Child Life Specialist once he completes the internship and passes the certification exam in August.
HDFS student Lexie Smith poses beside the sign for the offices of UNC Horizons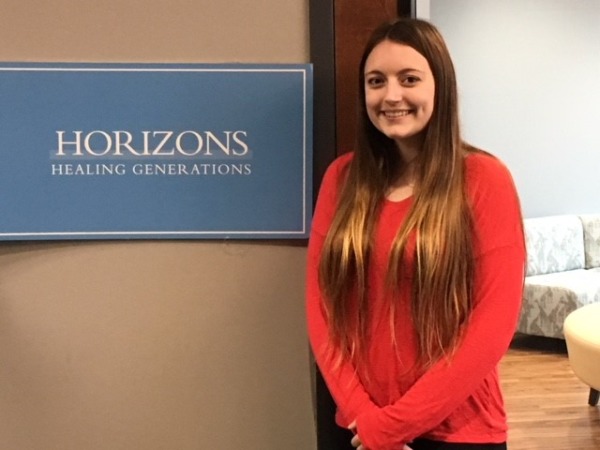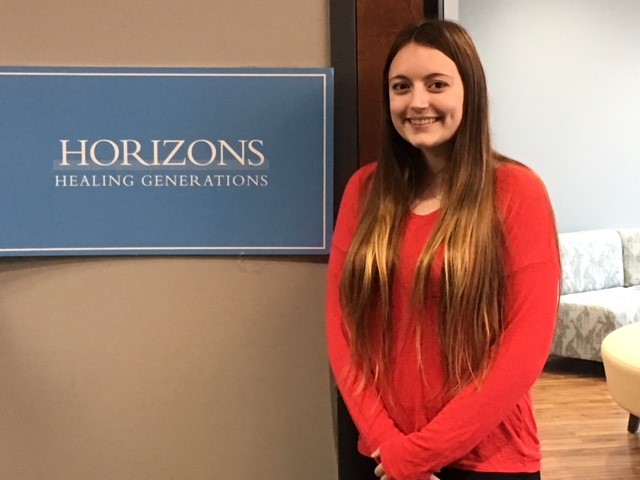 As in intern at UNC Horizons, a residential program for women recovering from substance abuse, Lexi Smith is helping with a research project that looks at how clients- scores on the ACES (Adverse Child Experiences Scale) evaluation influences their health resiliency. Smith is reviewing some of the data for Kim Andringa, director of research and evaluation at UNC Horizons, which Andringa said has been very helpful.
Smith chose an internship at UNC Horizons because she has a family member who has battled substance abuse. She also loves children.
Women can bring their children with them to UNC Horizons, and its child development center is one of the areas where Smith also works within the agency. Smith helps write lesson plans and leads activities.
Andringa said that Smith is a source of inspiration for children in the child development center, serving as a shining example of someone who has persevered despite having a family member who battled substance abuse. Andringa said Smith spreads a message of hope to the children in the center as a "super resilient and super successful" young woman.
The internship has also helped land Smith an interview with a similar program in her home state of New York. Smith, a double major in psychology and HDFS, interviewed for the position of peer support specialist. But when she told her interviewers about her experience working at UNC Horizons, they invited her to apply for more advanced positions. She has a second interview in April.
"I definitely would not have been qualified without this internship at all," Smith said.