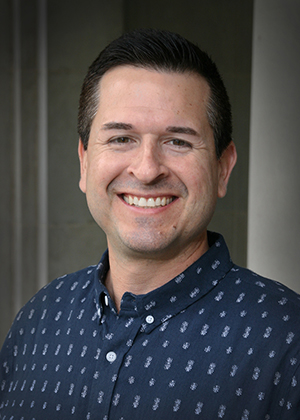 Educators will be better equipped to help foster children through a learning module being developed by a UNC-Chapel Hill team that includes School of Education faculty member Robert Martinez.
Martinez is working with faculty in the School of Medicine and School of Social Work, as well as with the SERVE Center at UNC-Greensboro to develop the materials, which are intended to better inform classroom practices and provide more effective emotional support for foster youth. The team won a UNC-Chapel Hill Felix Harvey Award to fund the project.
Martinez, who spent part of his childhood in foster care and helped train people to work with foster children in the Los Angeles Unified School District before coming to Carolina, said it's important for educators and child welfare professionals to have a better understanding of best practices for working with foster youth.
Studies have shown that 80 percent of children have experienced some type of "adverse childhood experience" – a traumatic event in their families, such as a parent abusing drugs, or the death of a parent. But, Martinez said, foster youth often face additional and dramatic traumas, such as physical, sexual or emotional abuse, or the incarceration of a parent. Those experiences can play out in classrooms in ways that educators may not understand, he said.
"There (are) a lot of ways kids can be exposed to traumatic events, which impact their overall educational wellness, which can impact their educational outcomes," Martinez said.
Understanding the needs of foster children
As a counselor educator, Martinez trains counselors to see their students through the contexts of their family, culture and community. His work in the area has been recognized by the Center for School Counseling Outcome Research, which acknowledged a study he conducted last year identifying best practices for counseling in schools during the 2018 American Counseling Association conference.
Critical to training counselors and other professionals who work in school settings is understanding what shapes human interactions, which is what Martinez is accomplishing with this latest research to benefit foster children.
Martinez said the goal of the learning module is to help education professionals understand, put into context and address the issues that foster youth face.
He said students in the foster care system graduate at less than 50 percent, compared to first-generation high school graduates who graduate at over 50 percent. He said foster care students only make up about 20 percent of the post-secondary population, and only about 2 to 3 percent actually earn a four-year degree.
Foster youth also have higher rates of placement in special education, more absences and are suspended and expelled from school at higher rates than their peers who are not in foster care.
There are more than 16,000 foster youth in the state of North Carolina, and close to 500,000 across the country.
Developing guidance for new policies
Martinez said the team is looking forward to launching the module this fall and learning more about what the state of North Carolina and pre-professionals need to support foster children.
The module will offer guidance for trauma screening in schools and ideas for what a "trauma-informed" school should look like; explain how trauma happens; and create connections among educators to support foster youth, as well as share ideas for how educators, administrators and legislators can develop and implement district-wide policies to help them.
The Felix Harvey Award was endowed with a $2 million commitment in 2007 to honor the late C. Felix Harvey. A 1943 Carolina graduate, Harvey was chairman of Harvey Enterprises & Affiliates and founder of the Little Bank Inc., both in Kinston, N.C.