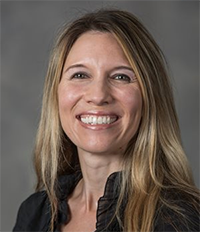 Abby Ampuja knows that students who learn how to regulate their own behaviors and emotions are better able to learn.
Ampuja, a doctoral student in Applied Developmental Sciences and Special Education, learned the importance of social-emotional learning during part of her 13 years of work as a classroom teacher.
Fun Fact: "Ampuja" is Finnish for "sharpshooter." Ampuja's father is Finnish.
Social-emotional learning, known as SEL, incorporates strategies that teach children conflict resolution, self-awareness, and how to regulate their behavior – all so that they are better prepared to tackle and focus on classroom assignments.
Ampuja, who is working as an adjunct faculty member in special education at Elon University while completing her dissertation at Carolina, is from New York state. She became interested in teaching as a psychology undergraduate at Mount Holyoke College in Massachusetts, where her studies took her inside classrooms. She enjoyed working in classrooms and decided to double major in education.
Ampuja moved to North Carolina in 2001, teaching in public and private schools in Wake County and in the Chapel Hill-Carrboro City Schools system. She earned a master's degree in special education at N.C. State in 2006.
It was during her work in Chapel Hill-Carrboro schools that Ampuja was introduced to social-emotional learning practices. Now she works with students on her own, teaching SEL techniques. In working with students, Ampuja uses various mindfulness activities to help students pay attention and be aware of what is going on in their minds and bodies so they can learn.
Ampuja says she has had parents tell her that while their children struggle with reading and writing, they also have trouble regulating their emotions and focusing. Ampuja said when she discusses the techniques she uses with parents, they often cry with joy.
"After more than a decade of working with families in the Triangle, it's very clear that there's this need for this kind of work, and parents continue to express that to me in different ways and across different settings and ages," Ampuja said.
Ampuja and a friend who is a school counselor have written a book for children aimed at helping them develop growth mindsets in which they build confidence in their abilities to learn. Another book – aimed at helping children create "calming kits" – is in the works. Ampuja and her friend are also making plans to establish a clinic through which they can educate teachers on SEL techniques and executing ideas such as how to design "calming corners" in their classrooms where students can take a break and engage in comforting activities such as playing with stress balls and journaling.
Ampuja also envisions offering workshops for parents to teach them the same strategies she teaches the children so the parents can reinforce them at home. "We plan to start small, but our hope is that the clinic will grow as word spreads and we reach more people," Ampuja said.