Educators and others working in projects aimed at addressing the needs of rural communities need to identify and build upon the strengths of those communities, faculty member Lora Cohen-Vogel, told a gathering of Carolina faculty and administrators.
Cohen-Vogel, the Frank A. Daniels Professor of Public Policy and Education, was a featured speaker at the Provost's Panel on Rural Communities in November.
Cohen-Vogel helps lead two projects across nine rural school districts in North Carolina — one to extend the impact of high quality pre-kindergarten and the second to boost the rate at which students finish 9th grade on track to graduate high school.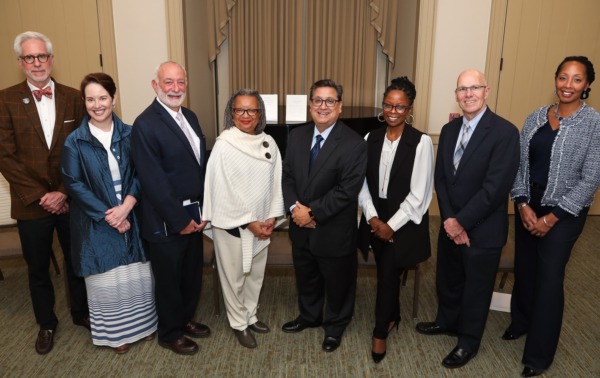 Reminding the audience that more American students attend rural schools than schools in New York City, Los Angeles, Chicago and the next 75 largest school districts combined, Cohen-Vogel argued that it's critical to have an asset-based mindset toward rural communities, one she calls a "Boon not boon docks" approach to the work.
There is a strong sense of community in rural areas, one that spills over into education. In fact, schools sit the center of social, recreational and cultural life in rural settings.
"The trick in working in partnership with rural communities is how to build from those strengths," Cohen-Vogel said. "My advice is to begin by mapping the funds of knowledge that the community brings to the work."
She said that in education, that means asking questions such as:
• What knowledge do students in rural areas already bring to the understanding of science and engineering, for example?
• How can teachers leverage students' existing knowledge to inform instruction and/or curriculum development?
Cohen-Vogel is a co-principal investigator of the Early Learning Network project at UNC-Chapel Hill, funded by a $4 million grant from the Institute of Education Sciences. In the project, Cohen-Vogel leads a team that is examining how policy coherence, or the lack of policy coherence, may mediate the effect of high-quality Pre-K experiences on children's later-life outcomes.
North Carolina is home to more than a half million rural students, the second largest rural student population in the United States, after Texas. Approximately 40 percent of the state's public school students reside in rural counties.
Noting that North Carolina's rural schools have less access than their non-rural counterparts to school social workers, counselors and nurses, high-speed broadband internet access, and advanced course offerings, Cohen-Vogel stressed taking an aspirational not satisfying approach to the work.
"In other words, structure projects to ask 'What would it look like if we gave rural communities our best and brightest? What would that take?'" she said.
Cohen-Vogel was joined on the panel by State Sen. Angela Bryant; Paul Cuadros, associate professor in the Hussman School of Journalism and Media; Doug Zinn, executive director of Kenan Charitable Trust; Yolanda Keith of the Carolina College Advising Corps; and, Giselle Corbie-Smith, Kenan Distinguished Professor of Social Medicine.