After teaching for four years, Alexandra Lewis wanted to deepen her impact on students' lives. After working as a teacher overseas and in a small school in Durham, Michael Berro was driven to learn how to scale up educational innovations to help more young people.
They found their way to the UNC School of Education's Master of Arts in Educational Innovation, Technology and Entrepreneurship (MEITE) program where each works in an industry internship to gain experience and put to work lessons learned in the classroom.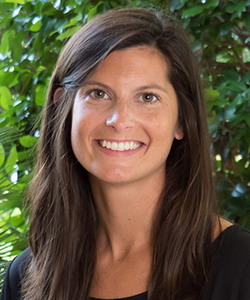 Throughout the School of Education, academic programs use internships to expose students to "real-world" problems, giving them opportunities to put into practice skills and knowledge gained through their coursework.
In the MEITE program, that means working with companies that are creating new technologies, products, and services being put to use in the field of education.
"With our industry-ready focus, our internships offer students opportunities to work with professionals in the field of educational innovation, which provides them experience that aligns to their professional goals," said Todd Cherner, director of the MEITE program.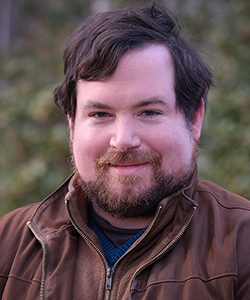 'Stark differences'
Both Lewis and Berro have worked since August in internships with MetaMetrics, a Durham-based firm that is a national leader in offering educational measurement technology, services, and tools aimed at helping teachers, schools, and educational agencies personalize, or differentiate, learning opportunities for students.
The experience has been eye-opening, they said.
Lewis started her career in education as a Teach for America teacher in Charlotte. But she said that she left that experience feeling unequipped to be fully effective in the classroom. She joined a school in Charleston, South Carolina, that served students with dyslexia, which offered her intensive training for working with special needs children.
"That training, that approach was just so groundbreaking," Lewis said. "I saw it work for students who aren't ones who are going to excel in a normal classroom setting. I saw the stark differences in my two teaching experiences, and I was like, 'I want to take what I know about curriculum and about what works and I want to expand that impact.'"
"That's why I joined the MEITE program," she said.
Berro describes a similar experience, although his revelation came after a career journey that took him to the Middle East and then back to his hometown, Durham.
After graduating from Davidson College with a major in history and a minor in Arabic, Berro, who is partly of Syrian descent, took teaching jobs in Doha, Qatar, and Dubai in the United Arab Emirates.
"I wanted to learn the language and go back and visit my family," Berro said.
After spending two years in the Middle East, Berro now teaches at Camelot Academy, a private K-12 school in Durham. In that job, he started to wonder how to scale up teaching for larger classes than the ones he teaches.
"There's the question of scale that always comes up because giving and personalizing instruction to students, I feel, is very important, but it's very hard to do," Berro said.
"I saw the MEITE program as a way, particularly with its emphasis on technology and today's developments in machine learning, to take a next step and help teachers tailor lessons for students in a more personalized and individualized manner," Berro said.
In the MEITE program, both Lewis and Berro have found classroom lessons put to work in their internships.
Building around experience
Cherner said the MEITE program is designed around the internship experience, which is designed to help each student launch into the next phase of their career.
"When students begin planning their next steps after the MEITE program, not only do they have a year's worth of experience, they also have a network of professionals who can provide them references and support when on the job market."
The MEITE internship program is designed so that each student can find an internship tailored to their professional interests.
"As they transition from graduate students to professionals, they will be able to draw on the experiences from their internship in a way that demonstrates their credentials," Cherner said.
As part of the MEITE program, students are also required to create a professional website that includes a portfolio that demonstrates their accomplishments and products created while in the program, Cherner said. It gives students an advantage when they enter the job market as they are able to show tangible examples of the work they are capable of doing.
Lessons put to work
Lewis is part of a MetaMetrics team developing an online professional development program to certify educators and others in using MetaMetrics' measurement frameworks and tools for differentiating instruction. She has worked to create instructional materials and then to gather feedback from educators who use the materials, making revisions based on the feedback.
In one MEITE class, Lewis said they had learned how to use "design thinking" — a process used in product development that involves a series of exercises aimed at drawing out ideas, deploying them into products or processes, evaluating their effectiveness, and making revisions based on the evaluations.
It was one thing to practice design as a classroom exercise, and quite another to do it on the job, Lewis said. She said she realized in her MetaMetrics project that just one phase of the creation-prototyping-evaluation process can take weeks in a work setting.
She described getting feedback from teachers on the presentations she was creating when she was hit by a realization: "In class, we're moving through different phases quickly to get the experience," she said. "But it was like, 'Oh! I'm in the prototyping phase.' It was a light bulb moment when I got to move to a different phase of the project and realize that."
Berro is working on a project to extend MetaMetrics' tools into careers beyond the educational field. He said that after several years of working as a classroom teacher, it was enlightening to be part of a team, one that had members with expertise that could be called upon to accelerate a project.
Widening possibilities
Both said the internship experience has given them new ideas about career objectives.
"It's shown me that other than being physically in a classroom teaching, there are other ways and possibilities to impact education in a positive way," Lewis said. "I used to think that that would just be through getting a product directly to a student, whether it's like an app or a book. This has showed me that the product doesn't just have to help the student.
"If it's helping the teacher, if it's making instruction easier, then it's in turn helping students," she said.
Lewis said that for her the MEITE program has opened possibilities of working for firms that provide services in the educational field, perhaps working in digital curriculum development or instructional design.
Berro said he has discovered that he's able to apply multiple facets of his talents in education.
"I like to say that I'm like a Swiss Army knife because I like to be able to do a lot of different things," said Berro, who has also been sharpening his data analysis and coding skills through the MEITE program.
He said the MEITE internship widened his career possibilities.
"I love teaching, and I'm still teaching," Berro said. "But I could definitely see myself in a company like MetaMetrics, contributing to education from outside the classroom now.
"It's given me an opportunity and a venue to practice in a way that's meaningfully contributing to an existing company," he said. "It's not just a class project at the end of the semester, but it's what I would actually be doing in a job."