Katie Ingram, a doctoral student in the School of Education's School Psychology program, has won a $100,000 dissertation award from the National Institute of Justice.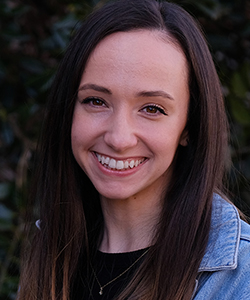 Ingram won the NIJ Graduate Research Fellowship award to fund her dissertation research into adolescent "sexting" — defined in Ingram's project as the practice of nonconsensual sharing of nude or partially nude photos or videos of peers. Among its aims, the two-year study intends to measure rates of sexting among adolescents and to identify the motivations of those who engage in it — all with the intention of informing creation of evidence-based prevention programming rooted in harm reduction.
"Sexual violence, and any form of interpersonal violence involving boundary violation or non-consensual acts, can be extremely traumatic and harmful," Ingram said. "In working with adolescents in clinical practice, I've noticed that this specific form of sexual violence was unique in many ways, but particularly in how permanent the act itself is, and how quickly the number of aggressors in any one incident multiply exponentially at such an alarming rate."
Sexting is common among adolescents, Ingram says in the abstract of her study proposal, citing research that has demonstrated that between 12% and 27% of adolescents report involvement in sexting as a recipient or participant, a wide range of estimates that speaks to the need for better measurements of the behavior.
"Despite it being wildly prevalent and the cause of a lot of hurting, prevention efforts are pretty scarce," Ingram said.
It's important to understand motivations for sexting as the practice can also have serious legal consequences, among them being criminal charges in instances of distribution of child pornography, Ingram said.
Highly competitive grant program
The NIJ fellowship is a highly competitive grant program, with only a handful of graduate students across the United States winning funding from a pool of hundreds of applicants, said Dorothy Espelage, the William C. Friday Distinguished Professor of Education who teaches and conducts research in the School of Education's School Psychology and Learning Sciences and Psychological Studies programs.
Espelage said Ingram's project is needed.
"As youth are spending increasingly more time interacting with peers through social media, especially since COVID-19 lockdowns, it is critical to understand who, why, and how adolescents receive and distribute sexts in order to build programs to prevent these behaviors," Espelage said.
Ingram said she will work to create a foundation of understanding of sexting among adolescents and to establish methods to accurately measure the behavior.
"We're starting from a point of being able to measure and describe this behavior, as consensual and non-consensual sexting are two very different behaviors often measured together" Ingram said. "What are its features? What drives it? How often is it happening? Who is involved and under what circumstances?"
The project will survey 400 high school students in Chicago, with Ingram working with an organization there with which she has worked in the past to develop anti-bullying curricula. Participants will be compensated. Ingram said she hopes to collaborate with the students to report back on findings in ways that might be helpful for them.
The project will use survey methods that have been demonstrated to produce in-depth quantitative and qualitative data, Ingram said. Analysis of the data will be informed by a "social discounting" behavioral theory that describes differences in behavior people use when dealing with others who are close to them, compared to how they behave with people who are not close, she said. The objective, Ingram said, is to determine whether sexting behavior can be predicted among adolescents, thereby improving the ability of interventions to be successful prior to any harm caused.