This spring semester, Dorothy Espelage, Ph.D., William C. Friday Distinguished Professor of Education, and school psychology doctoral student Anne Drescher led a class of Carolina undergraduates in a course titled "Sources of Strength," a first-of-its-kind course at UNC-Chapel Hill aimed at promoting mental health and preventing suicide on campus.
The course — made possible by a $50,000 grant from the Triad Foundation and awarded by Chancellor Kevin M. Guskiewicz — draws from Sources of Strength, a best practices youth suicide prevention project designed to harness the power of peer social networks to change unhealthy norms and culture. In class, Espelage and Drescher have introduced research on mental health from a number of fields and provided students a place to explore varying facets of mental health in their individual and collective lives. They hope to one day offer the course to every first-year student at Carolina.
As part of the course, students have also launched a University-recognized club, engaging with fellow students at on-campus events and planning advocacy campaigns to make Carolina a healthier campus. Ashlen Wright, president of the Sources of Strength club and a junior studying Human Development and Family Studies, reflects on why she signed up for the course, how the semester has gone, and what she hopes for future Carolina students.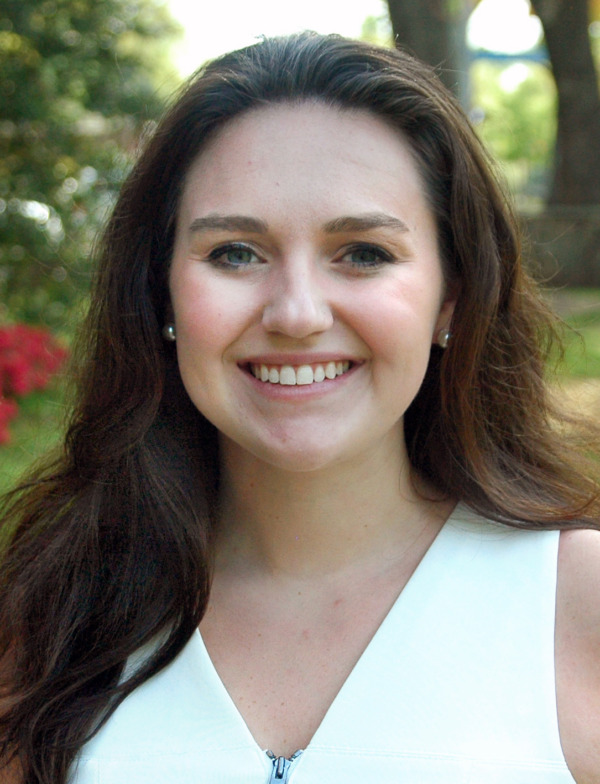 As an out-of-state student from North Dakota who came to Chapel Hill with plans to major in business, I can say with certainty that Carolina is a competitive place. We all have high expectations for ourselves and for the world. We're all good students who have, for the most part, been successful in our academic careers.
For this reason, it's difficult to admit when we're struggling.
When the COVID-19 pandemic forced us to remote learning, I definitely struggled with the transition. In 2020, I took time off and started tutoring— and really fell in love with teaching kids and helping them with online schooling. When students came back to campus last fall, I changed my major to Human Development and Family Studies (HDFS) because of its focus on education and student well-being.
HDFS connected with my interest in mental health. In high school, a good friend passed away from suicide. That had a huge impact on me and showed just how important addressing mental health is. Not long after, I became involved with a program that provided psychological services for high school students.
I hadn't even considered the possibility that I could explore education and mental health through a major until I found HDFS. The HDFS program also connected me with Professor Dorothy Espelage's Research Addressing Violence in Education (RAVE) Lab.
As I pursued this new major and contributed to mental health research through the lab, I observed that more and more of my fellow students were struggling to adjust back to in-person schooling. Many of my classmates were burned out from the financial, health, and academic pressures of COVID-19. It seemed impossible to maintain our past energy and passion for learning in the wake of the pandemic.
In response, students needed more mental health support from the University. A class focused on student wellness and a new campus group felt so necessary. Bringing Sources of Strength to UNC, which the RAVE lab had previously conducted research on, provided a perfect opportunity. Sources of Strength takes a different approach than most mental health programs, as it is peer-driven and strengths-based. The program provides a prevention-focused, upstream solution to mental health crises on campus. We felt that it could provide a much-needed cultural shift around student wellness.
When Dr. Espelage told me about this opportunity, I knew I wanted to be part of it and lead the new student club. This program has provided a space — sponsored and funded by the University — to really talk about mental health with other students. For me, that alone has been impactful.
In class, we have discussed our personal struggles and connections with mental health. We have also dug into the eight sources of strength — which include mentorship, family, friends, generosity, health activities, and more — in an effort to understand how we each can achieve well-being.
Sources of Strength is also meant to contribute to community well-being. In addition to taking the course, I am leading the Sources of Strength Club, which works across campus on outreach projects related to mental health. We're working to recruit new members, and my goal right now is to come back stronger in the fall and connect with as many first-year students and sophomores as possible — students who will help this club continue to flourish.
So what's my hope for all of this — the course, the club, this campus?
I hope this course is offered next semester and beyond, not just to School of Education students but to every student on campus. I hope the University can add new elective courses focused on mental health. I hope the club continues to create awareness and support for student mental health. I hope we are able to foster student-led support, so students don't rely solely on campus counseling services. I hope the University continues to support the wellness of their students.
Most importantly, I hope every Carolina student, now and in the future, will be healthy and feel whole.