University and community leaders officially opened the Carolina Community Academy on Aug. 25 with a ribbon-cutting ceremony at North Elementary School in Roxboro, North Carolina.
"As Chapel Hill works to train the next generation of leaders, we know that training can't start when they arrive at college," Chancellor Kevin M. Guskiewicz said. "It must begin earlier than that, in our state's public schools."
UNC-Chapel Hill will function as the school district for the Carolina Community Academy, with the inaugural year consisting of two kindergarten classrooms. The district will expand to include first and second grades in future academic years.
The North Carolina General Assembly passed a law in 2016 that directed the UNC System to create nine laboratory schools in partnership with public school districts. Carolina Community Academy is the ninth to open across the state.
The academy was designed as a "school within a school" to provide a seamless transition for students at North Elementary. After finishing second grade at the academy, students will simply move down the hall to begin third grade with the same classmates at North Elementary. The academy will function as a classroom setting similar to many others found throughout the state while working to integrate evidence-based classroom practices and innovative approaches, improved and integrated curriculum, social-emotional learning, and robust wraparound services to best support the students.
"Unique and creative approaches are ultimately the goal of these schools," UNC Board of Trustees Chair David Boliek said at the ribbon-cutting event. "Our effort in Chapel Hill is to bring together and leverage all parts of our University as the flagship to impact students."
Two incoming Carolina Community Academy kindergartners, Liam Adams and Adrian Gomez-Patricio, helped cut the ribbon to open their new school.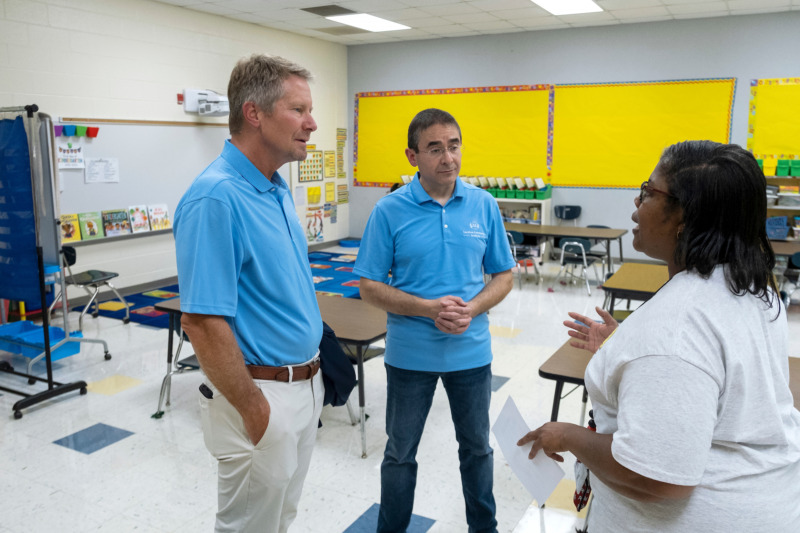 UNC School of Education Dean Fouad Abd-El-Khalick also attended the ceremony, where he and Guskieiwcz emphasized the collaboration that led to the launch of the school.
"At Carolina Community Academy, we will engage and bring resources and expertise from across Carolina to collaborate with school leaders, teachers, students, parents, and community," Abd-El-Khalick said. "CCA adopts a whole education approach focused on supporting the learning and well-being needs of students and their families through robust wraparound services."
An important component of the Carolina Community Academy is the inclusion of a cross-campus coalition for the education and wraparound services for the students. Currently, the UNC Adams School of Dentistry, the UNC School of Information and Library Science, the UNC School of Nursing, the UNC Gillings School of Global Public Health, the UNC School of Social Work, UNC Allied Health, UNC Pediatrics, the Ackland Art Museum, the Morehead Planetarium and Science Center, the Sonja Haynes Stone Center, and UNC Athletics are working together to serve the students of Carolina Community Academy.
After the ceremony, Carolina, UNC System and Person County representatives toured the classrooms where kindergartners will take their seats on the first day of class Aug. 29.
"A great education for all children is everyone's responsibility," Abd-El-Khalick said. "If it takes a village to raise a child, it takes the whole state to educate them. For close to 230 years at Carolina, we have engaged in preparing young adults from across our state to do well and do good."