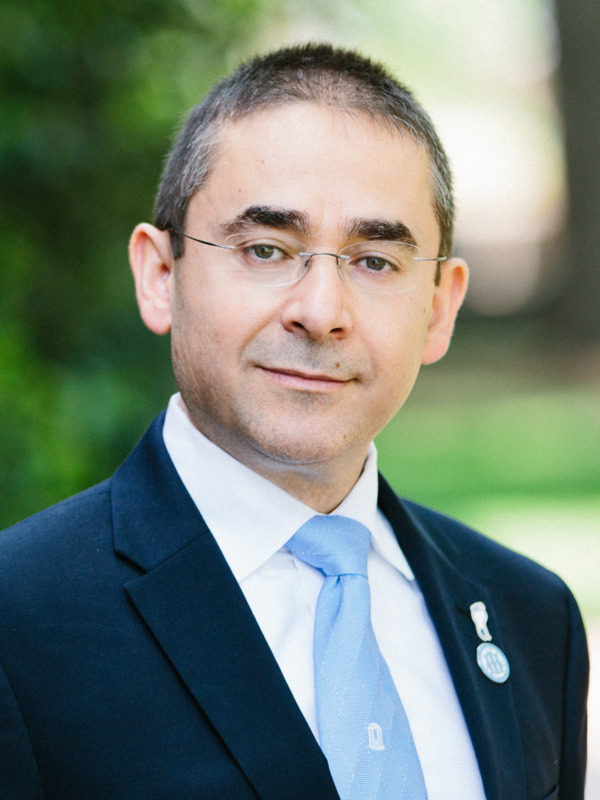 Fouad Abd-El-Khalick, Ph.D., dean of the UNC School of Education and Alumni Distinguished Professor, was selected by the Kuwait Foundation for the Advancement of Sciences (KFAS) to receive the 2021 Kuwait Prize.
The prize is awarded annually to Arab scientists and scholars, who over the course of 20 or more years, have made vital and innovative research or creative contributions in different fields that include basic sciences, applied sciences, economics and social sciences, and art and literature.
Abd-El-Khalick, who hails from Lebanon, was the sole winner of the 2021 Kuwait Prize in the field of economics and social sciences, specifically in educational sciences, for his scholarship on nature of science in science education and contributions to STEM (science, technology, engineering, and mathematics) education.
"I am honored and humbled to receive this prestigious award, which is intended by the State of Kuwait to recognize the contributions of Arab scientists no matter where in the world they undertake their research," Abd-El-Khalick said. "As a proud Lebanese American, it is deeply satisfying to see the continued recognition of the sciences as the border-crossing, global currency that unify us all in the pursuit of truths for the betterment of people and communities everywhere."
KFAS will present the award to Abd-El-Khalick at its annual awards ceremony in February 2023 in Kuwait City. Due to COVID-19 disruptions, the ceremony will honor the 2020 and 2021 Kuwait Prize laureates.
Abd-El-Khalick, a leading international science education researcher in precollege grades and teacher-education settings, has made significant, transformative contributions to the development of the scholarly study of teaching and learning about, and assessment of "nature of science." Nature of science describes the characteristics of scientific knowledge and how that knowledge is developed and validated. Abd-El-Khalick has also maintained an active research program and consulted on large-scale educational reform projects in Egypt, Lebanon, Qatar, and Yemen.
Before coming to Carolina in 2016 to serve as dean of the School of Education, Abd-El-Khalick spent 16 years at the University of Illinois at Urbana-Champaign, where he served as department head and associate dean for research in its renowned College of Education. At Illinois, Abd-El-Khalick won teaching and research awards, including being named University Scholar, and was invested as the Grayce Wicall Gauthier Professor of Education.
He has been widely published in and served on the editorial review boards and in editorship roles for top journals in his field, including serving as co-editor of the premier research journal in science education, the Journal of Research on Science Teaching.
In 2022, Abd-El-Khalick received the National Association for Research in Science Teaching's top lifetime achievement honor, the Distinguished Contributions to Science Education through Research Award.
Recipients of the Kuwait Prize are selected through a three-stage review process conducted by international experts in their fields. Recipients are selected by the KFAS Board of Directors and then endorsed by His Highness Sheikh Mishal Al-Ahmad Al-Jaber Al-Sabah, the Crown Prince of the State of Kuwait and the board's chairman.
The Kuwait Prize was established in 1979 to recognize the exceptional and longstanding achievements of Arab researchers in four fields: basic sciences, applied sciences, economics and social sciences, and art and literature. KFAS is a private non-profit organization established in 1976 by an Amiri Decree under the direction of the late Amir of Kuwait, His Highness Sheikh Jaber Al-Ahmad Al-Jaber Al-Sabah to create and develop a thriving culture of science, technology, and innovation for a sustainable Kuwait.