Diana Lys, Ed.D., assistant dean for educator preparation and accreditation at the UNC School of Education, reflects on the impact of the North Carolina Teaching Fellows program, what our fellows receive through the program, and how those fellows serve North Carolina.
Five years ago, the UNC School of Education was one of five North Carolina universities selected to participate in a program aimed at supporting students preparing for a teaching career in the fields of science, technology, engineering, math, or special education.
These promising educators-in-training would be the new North Carolina Teaching Fellows.
The North Carolina Teaching Fellows program (NCTF), which revived a long-running educator loan forgiveness program, was established to recruit, prepare, and support students attending North Carolina educator preparation programs with aspirations of becoming STEM or special education teachers for the state's public schools.
We joined NC State University, UNC-Charlotte, Elon University, and Meredith College as the five selected by the North Carolina Teaching Fellows Commission. Here at the School of Education, graduates of Carolina's Master of Arts in Teaching (MAT) program and the UNC-BEST program, provide North Carolina with much-needed teachers in special education and STEM classrooms.
Teaching Fellows receive up to $8,250 per year in forgivable loans if they commit to teach in a STEM or a special education area. The program is specifically designed to attract high-quality teachers to low-performing schools by offering an accelerated loan forgiveness schedule for Fellows who agree to teach in a low-performing school.
As faculty member Eric Houck, Ph.D., a Carolina alumnus and a North Carolina Teaching Fellow from the program's first iteration, said in 2017: "It is critically important for the School of Education to have a role in preparing some of the best and brightest minds the state has for careers as educators."
This continues to hold true. Carolina continues to prepare the best and brightest minds to lead classrooms and help students, especially the most vulnerable ones, reach their maximum potential. The data show that.
Five years later, it is clear that NCTF creates tremendous impact and can have more of an impact by growing in strategic ways. The 2022 addition of Fayetteville State University, N.C. A&T University, and UNC-Pembroke to the consortium of universities is one of those ways.
What the data shows
In my role at the School, data drive my work. Data help to show our impact. They help us to improve our programs that empower educators of tomorrow. They help tell the story of what a Carolina-educated teacher means for North Carolina schools and students.
Since 2017 when the NCTF program re-launched, UNC-Chapel Hill has welcomed 66 Teaching Fellows to campus. By the end of this academic year, 40 of those Teaching Fellows will have graduated, going on to teaching careers.
Through our yearlong Master of Arts in Teaching program, we can quickly graduate Teaching Fellows into North Carolina classrooms. And those Teaching Fellows and teaching graduates quickly make measurable impact in those classrooms.
A 2019 report prepared for the UNC System Office by the Education Policy Initiative at Carolina evaluated the effectiveness of Carolina teachers. Its results show that UNC-Chapel Hill prepared effective teachers, especially in secondary STEM subject areas. The findings are also evident for economically disadvantaged and minority students, demonstrating our educator preparation programs' strong commitment to social justice in serving marginalized and underserved populations.
The report examined student test scores on End-of-Grade exams for North Carolina teachers to determine the effectiveness of teachers who graduated from UNC System universities. The study calculated how many additional months of student learning were achieved in Carolina-prepared teachers' classrooms beyond an expected number of months of learning.
Among the findings, among overall student populations:
In elementary math, students gained 1.26 additional months.
In middle school math, students gained 1.73 additional months.
In middle school science, students gained 2.4 additional months.
In high school biology, students gained 2.2 additional months.
Larger gains, according to the report, were among students from economically disadvantaged and minority populations, and from struggling schools.
In middle school science, among economically disadvantaged students, 3.3 additional months.
In high school biology, among economically disadvantaged students, 2.4 additional months.
In middle school math, among minority students, 1.26 additional months.
In high school biology, among minority students, 2.3 additional months.
In middle school science, within low-performing schools, 4 additional months.
Beyond the data
Working closely with UNC-Chapel Hill's Teaching Fellows directors Jennifer Diliberto, Ph.D., and Cheryl Bolick, Ph.D., for these past five years, I know that the NCTF's impact goes beyond just impressive numbers. It brings much-needed support and community to the Fellows themselves – community that they can take with them as they enter classrooms as fully licensed teachers.
That community helps them to be better teachers and to create a network that will help them to persist in the education profession. Throughout the program, Teaching Fellows receive programming that helps them build a teaching portfolio, including:
A collaborative session with a docent at the Ackland Art Museum, to come up with creative ways to use art to teach STEM subjects;
A "tinkering" activity in the "Launch Lab and makerspace at the Morehead Planetarium and Science Center; and
Critical conversations about events happening in classrooms around the country and ways to initiate such conversations with students.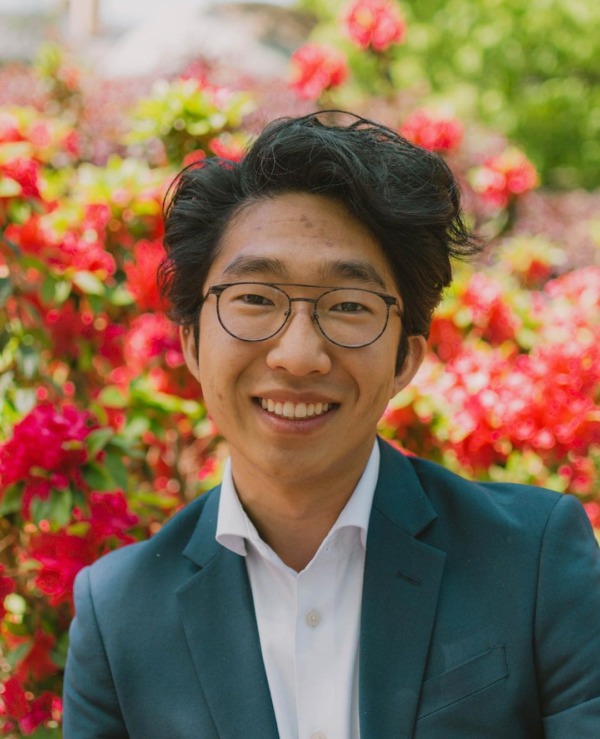 One of those Teaching Fellows, Matthew Budidharma ('23 M.A.T.) earned his bachelor's degree in chemistry from Carolina in 2022. With much of his undergraduate career disrupted by the Covid-19 pandemic, he knew he would greatly benefit from being surrounded by other future teachers in the MAT program.
"I wanted to be part of a cohort of people who also wanted to go into teaching," he said. "I knew it would broaden my experience from undergrad to learn from people who also wanted to become teachers, too."
During his undergraduate years, Budhidharma cultivated his teaching skills as a peer educator in the Department of Chemistry and as a percussion instructor for high school marching bands.
"I realized that I loved working with high school students," he said. "Plus, I was inspired by my own percussion teacher because he created an environment that was community oriented. If anyone wanted to join in, they were welcome. If you wanted to be there, he would find a place for you and make it work."
Budidharma said he is grateful to NCTF for paying for his master's degree, but mostly for the time to become a better teacher.
"I have meetings with other pre-service teachers. And there are professional development events that we can go to. It has given me more opportunities to see education in different spaces, more time, plus community with others – meeting and talking with people."
Teaching Fellows alumna Onesty McMillian ('21 B.A.Ed., '22 M.A.T.) comes from a family of educators. She also had amazing teachers growing up. That combination of mentors inspired her to become a teacher. Now serving as a much-needed special education teacher in Durham Public Schools, McMillian said she appreciated her MAT experience for preparing her for "the unknown of school."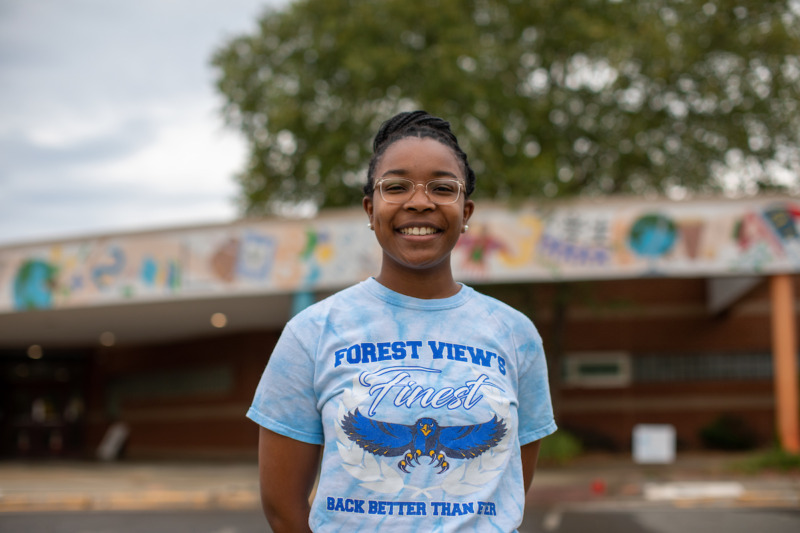 "I liked that the program wasn't focused on how to be a teacher, because there's no one way to be a teacher," she said. "We learned about different curriculums, and we had great hands-on experiences as student teachers. But what I liked best about the MAT program is that we were able to take our student teaching experiences back to our own classroom and talk with other classmates about what we were struggling with, or what we needed help with, or what went well in our student teaching days. That definitely was my favorite part of the program."
McMillian said she was grateful for the financial assistance provided by the program. "It was really nice to not have to worry about the finances at all. I could just immerse myself in my classes, and my student teaching. And I was more than happy to come back into the classrooms within North Carolina in order to fulfill my obligation," she said.
Matthew and Onesty are those "brightest minds" and success stories we envisioned a short five years ago. Here's to the next five years of high-quality, Carolina-prepared teachers. We're more than happy to fulfill our obligation to North Carolina students and schools.