This spring, the UNC School of Education will graduate the first cohort of students in the DREAM — or Diverse and Resilient Educators Advised through Mentorship — residency program at the School's graduation ceremony held May 13 in the Dean E. Smith Center.
In 2020, the School announced DREAM, a collaboration with Durham Public Schools (DPS) to recruit, train, and support teachers from diverse populations to work in the district's high-needs schools. DREAM is made possible by a $4.8 million grant from the U.S. Department of Education.
The DREAM program combines 12 months of Master of Arts in Teaching (MAT) coursework and a year-long student-teaching internship followed by three years of employment in DPS and unique on-the-job guided mentorship to prepare residents for an effective and impactful career as an educator.
Throughout the program, DREAM residents taught in Durham schools, working hands-on with students. They also utilized a network of ongoing support from the School and DPS to become effective educators who support the needs of their students.
"We are thrilled to partner with our long-time collaborators in Durham Public Schools to recruit, educate and retain driven, dynamic and diverse teachers committed to the success of students in Durham," said Kristin Papoi, Ph.D., DREAM principal investigator.
As each resident enters the next phase of their teaching careers, which includes a 3-year residency in DPS, they will continue to have opportunities to reflect on their practice, receiving unique support from faculty and staff within the School who work closely with the DREAM program.
DREAM and its residents cultivate a space that not only prepares highly effective educators, but positions those residents to have positive influences on the academic outcomes among an array of student populations throughout their careers.
Meet some of this year's DREAM graduates and hear about their experiences in the program: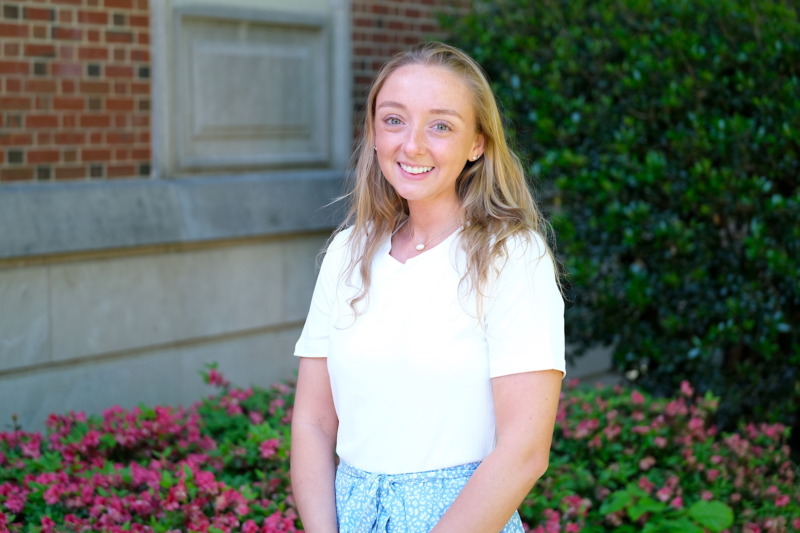 Megan Cannady
Hometown: Cary, North Carolina
Megan Cannady comes from a Carolina family and always dreamed of being a student at the University. After graduating from UNC-Chapel Hill in 2022 with a bachelor's degree in Human Development and Family Science (HDFS), Cannady became interested in the DREAM program when looking for graduate opportunities to further her knowledge within education.
A strong advocate for diversity and inclusion within the classroom, Cannady utilized the knowledge that she learned within DREAM and insights from mentor teachers to better interact with and serve her students, ensuring students from diverse populations are seen, heard, and valued.
"I wanted to use this program as an avenue to explore ways for me to be more culturally aware," Cannady said.
As Cannady prepares for the next phase in her career as an educator, she aims to make an impact within the school where she serves as an EC (Exceptional Children) teacher by advocating for students with intellectual and developmental disabilities and nurturing their academic experiences.
Through the support and connections she has gained from the DREAM program, Cannady said that she is focused on growing within the profession and going into the classroom with an open mindset to address the needs of students in a supportive and meaningful way.
"It's been really interesting to work through different problem-solving skills and to interact with different faculty members within the School of Education to tackle different topics within the public school system," Cannady said. "Being able to be in a community where we all value diversity and supporting one another has been truly valuable."
What does it look like to be an effective educator?
"The number one thing is valuing your students. Establishing that relationship with your students is so important because without that foundation of trust, you can't move forward. If students don't trust you, they're not going to trust that you can provide them support in times of need, whether it's educationally or personally. Being that support system for your students is huge."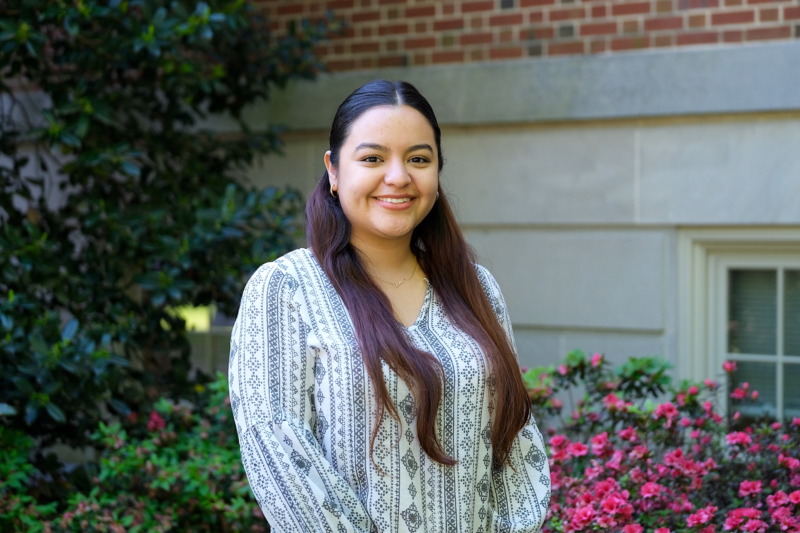 Elena Delvalle
Hometown: Lumberton, North Carolina
As a first-generation college student, Elena Delvalle came to UNC-Chapel Hill with the mission of making her parents proud and ensuring that their dreams were fulfilled.
After receiving her bachelor's degree in Human Development and Family Science (HDFS) in 2022, Delvalle pursued the DREAM program to realize her aspiration of becoming a teacher.
As she learned more about the program's mentorship opportunities and supportive community, Delvalle became more intrigued by teaching within Durham Public Schools and cultivating classroom experiences that meet the needs of students.
"I had the opportunity to see how students and teachers in Durham Public Schools bring their culture into the classroom," Delvalle said. "As an emerging educator, that makes me more empowered to bring my culture into the classroom."
As an elementary school teacher, Delvalle hopes to instill a love of learning in her students and make a positive impact on their lives while fostering a sense of community — like the one she found within DREAM.
"Having DREAM as a safe space to bring my full self into has been nice," Delvalle said, "and to have the opportunity to connect with others who have similar values as me has been helpful. DREAM has provided me with space and conversations that will follow me into the classroom."
What does it look like to be an effective educator?
"An effective educator has a commitment to learning – being a lifelong learner. Education is always changing. To truly be an effective educator, you have to be willing to learn something new and implement something new."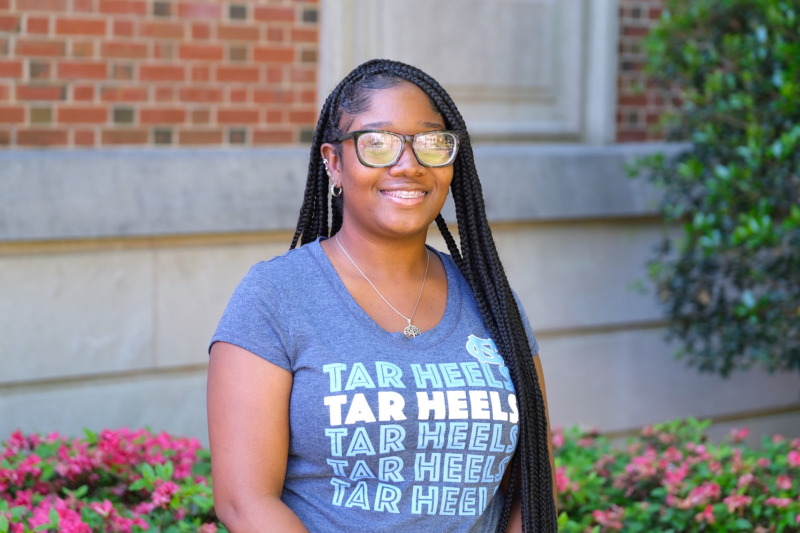 Destinee

McDaniels
Hometown: Jacksonville, North Carolina
Destinee McDaniels has always had a keen interest in becoming an educator. After graduating from North Carolina Central University in 2022 with a bachelor's degree in criminal justice, McDaniels knew that she wanted to make an impact in the field of education — and DREAM was her avenue to do so.
From volunteering within Durham Public Schools during her undergraduate experience to now having classroom teaching experience in the same school system, McDaniels utilizes knowledge gained from the DREAM program and previous extracurricular activities to develop as a skilled educator.
"With the support of the DREAM program, my mentor teacher, and colleagues within the program, I have access to the tools and knowledge needed for me to succeed in the field of education," McDaniels said.
As a student teacher with aspirations of becoming a high school EC teacher, McDaniels learned about the importance of working toward improvement, being efficient with her teaching methods, and curating a learning environment best suited for the needs of each student.
McDaniels said DREAM has not only provided her with the support and encouragement to cultivate supportive academic experiences for students within the public school system but how to be an impactful educator and teach students the skills needed to succeed.
"DREAM has given me an open space to communicate and guided me through the teaching process and the MAT program," McDaniels said. "The faculty and staff within DREAM are always there with open doors whenever I need support and are great with giving resources when needed."
What does it look like to be an effective educator?
"To be an effective educator, it means to support your students and always maintain an interest in research to make sure that you have the correct knowledge and skillsets to succeed in your field and teach your students."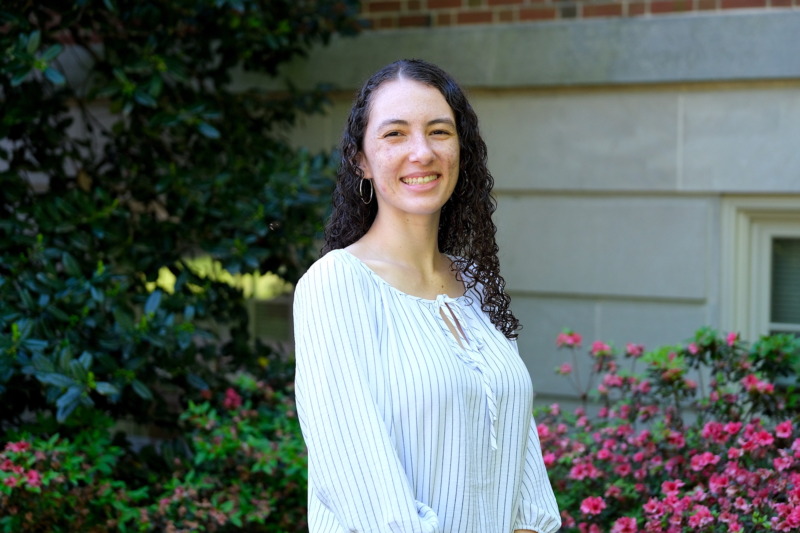 Emily Banks
Hometown: Creedmoor, North Carolina
After graduating from Carolina in 2022 with her bachelor's degree in Human Development and Family Science, Emily Banks wanted to continue her education through the MAT program so she could begin her career as a teacher. DREAM served as an avenue to cultivate that career.
With experience working in a Durham County nonprofit, Banks already had an admiration for the Durham community and its public schools.
"I have learned so much teaching in Durham Public Schools," Banks said. "I have had a variety of conversations with my peers, colleagues, and school administration to learn more about what it means to be an educator. I'm still growing and learning about what it means to be an educator, but I am really happy to have the opportunity to get my foot in the door and gain more experience teaching."
During her student teaching experience, Banks learned about the significance of showing vulnerability as an educator. With the knowledge gained from DREAM and mentor teachers, Banks aims to curate a classroom environment to establish a sense of relatability with each student to boost their confidence in their academics.
As the first educator in her family, Banks is looking forward to teaching and empowering students as a Latina educator and providing representation in classrooms. Through the support and guidance that she has received as part of DREAM, Banks said that she is excited and grateful for the opportunities that the program has provided to her to build a strong foundation for her future.
"DREAM has done a lot to impact my experience as an educator," Banks said. "Even though it's a new program, DREAM has given me so many opportunities and perspectives that have strengthened my abilities as a student and as an aspiring educator. I have appreciated the insights, support, and warmth that I received within DREAM, and I feel more confident going into my career in education."
What does it look like to be an effective educator?
"To me, being an effective educator is more than having the best lesson plans or the most content area knowledge. It's about seeing your students and building those relationships. From knowing your students as individuals and what their needs are to making sure they are showing up and learning in the best way, it's important to recognize that they are humans."