Since the second grade, Emily Banks, the UNC School of Education's 2023 Student Teacher of the Year, has known she wanted to pursue a career in teaching.
Growing up in rural North Carolina, Banks ('22 B.A.Ed., '23 M.A.T.), who is of Puerto Rican heritage, said she experienced a gap in Latinx representation among her teachers and within the curriculum. This inspired her to be that representation for her students and to create an inclusive and culturally rich classroom experience for all of her future students.
"It really does make an impact on students to see someone who looks like them," Banks said. "I hope to continue to see the field of education diversify and help with that in any way that I can."
In May 2023, Banks graduated as a member of the first cohort of the DREAM — or Diverse and Resilient Educators Advised through Mentorship — residency program in which residents complete the 12-month Master of Arts in Teaching (MAT) program along with a year-long student-teaching internship and then teach for three years in Durham Public Schools.
As a student within the Human Development and Family Science (HDFS) program before enrolling in the MAT program, Banks searched for opportunities to work with students and confirm that teaching was the career for her.
She discovered Student U, a community organization that uses the power of education to foster equitability throughout Durham. While at Student U, Banks taught sixth grade science alongside a network of aspiring and experienced educators and empowered would-be first-generation college students to achieve success.
Banks said this experience solidified her nearly life-long desire to teach.
"This experience gave me a broader view of social justice, education, diversity in education, and culturally responsive teaching," Banks said. "I want to make sure that I could put my own culture into my teaching, but also recognize the cultures of my students in the classroom."
As a student teacher at Durham's R.N. Harris Elementary School during the 2022-23 school year, Banks learned best practices from her mentor teacher and found ways to better connect with her students.
Banks also said she learned how to value the voices of her students, providing opportunities for them to share their feedback and input. She encouraged students to express which activities they found enjoyable and to gauge their comprehension of topics, enabling Banks to tailor future lessons accordingly.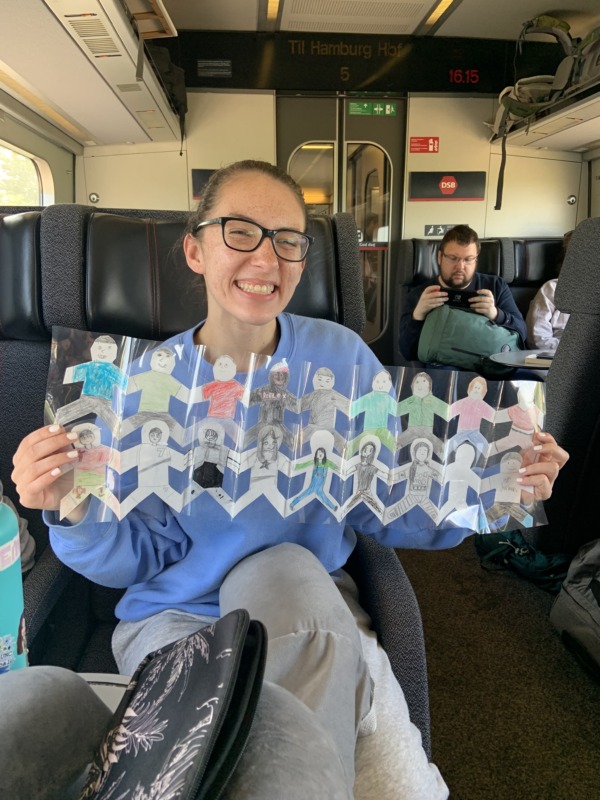 "I enjoy seeing students develop their thoughts and opinions and ideas about the world," Banks said. "They have such incredible minds. It's really cool to be able to listen to their ideas and listen to how they view the world."
While prioritizing her students' needs, Banks built a rapport with them through daily check-ins and learning about their backgrounds, interests, and skills to create an engaging learning space.
"I always love seeing students try something new, whether it's solving a math problem or starting a book," Banks said. "It's incredible seeing them want to continue to learn."
Leading with lasting care and connection
During her student teaching experience, Banks utilized her classroom as a place for innovation and creativity. While helping students thrive in the classroom, Banks was able to thrive in her journey toward becoming a teacher by learning key skills and building connections with colleagues and peers on being an effective educator.
Lara Greene, a fifth grade teacher at R.N. Harris Elementary School and Banks's mentor teacher, said that through her commitment to building strong relationships, immersing herself in the curriculum to effectively teach all subjects, and honing her classroom management techniques, Banks exemplified the impact of leading through lasting care.
"Ms. Banks's calm and embracing demeanor clicked instantly with her class," Greene said. "The students felt comfortable confiding in her personally and academically, and they consistently worked hard during her lessons and small groups. She was somebody they strived to please and make proud."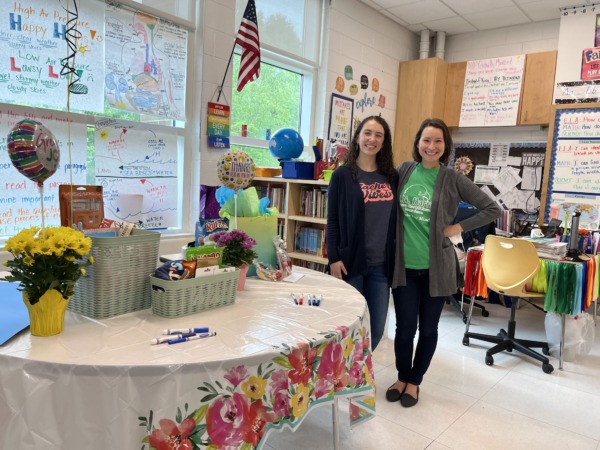 Greene noted that Banks's transition into full-time teaching in January 2023 was seamless, noting she entered into each day of class prepared with lesson plans and a strong understanding of the curriculum. Greene shared that Banks' detail-oriented nature and ability to keep her students in mind during planning enabled her to differentiate her lessons for each individual student's needs.
"She has tremendous initiative, a desire to continue to learn, and a reflective mindset," Greene said. "Ms. Banks cares. She deeply cares about her students, she loves this profession, and she will make a difference as an educator."
Cheryl Mason Bolick, MAT program director, said she watched Banks grow into a passionate and skilled educator. Regarding Banks's recognition as Student Teacher of the Year, Bolick said that Banks fosters active learning through hands-on teaching approaches and delivers relevant and engaging content that empowers students.
"Emily is at her best in a group environment and is consciously proactive at getting full involvement of all other team members to derive the best results possible," Bolick said. "She is always respectful and handles conflict with exceptional composure and diplomacy. She has an effective personal style, and is admired by staff, families, and students."
Bolick, who also served as Banks' direct supervisor for her student teaching this past year, shared that Banks built a community in her classroom and school and led with compassion to engage students for deeper learning.
"Emily is a remarkable educator," Bolick said. "Her greatest strengths are her sensitivity to others and a commitment towards building an inclusive classroom for all students. As a mentor and a role model in and out of the classroom, Emily has had a positive impact on students, families, community members, classmates, and colleagues."
Creating a transformative and inclusive learning experience
Throughout her academic journey, Banks took part in various opportunities to enrich her learning and effectively applied them to her classroom practice while collaborating with her peers to cultivate the necessary skills for her career.
"The School of Education and DREAM have provided me with opportunities that I could not have even dreamed of before that have directly influenced my teaching and how I approach education," Banks said.
As part of an experiential education program, Banks and her peers in the MAT program participated in Outward Bound in 2022, spending five days in the North Carolina mountains. The trip provided her with opportunities to enhance her collaboration skills, leadership skills, and gain valuable insights for the classroom.
This summer, Banks was one of ten students selected for the Tricontinental Teacher Training Exchange Program, an exchange program for pre-service teachers and soon-to-be pre-service teachers to engage with pre-service teachers at the University of Hamburg (Germany) and the University of Education, Winneba (Ghana).
"I never thought that I'd be able to go abroad, much less study abroad," Banks said. "I've learned so much information that I want to bring back to my own classroom. I think that I'm a better teacher because of these experiences."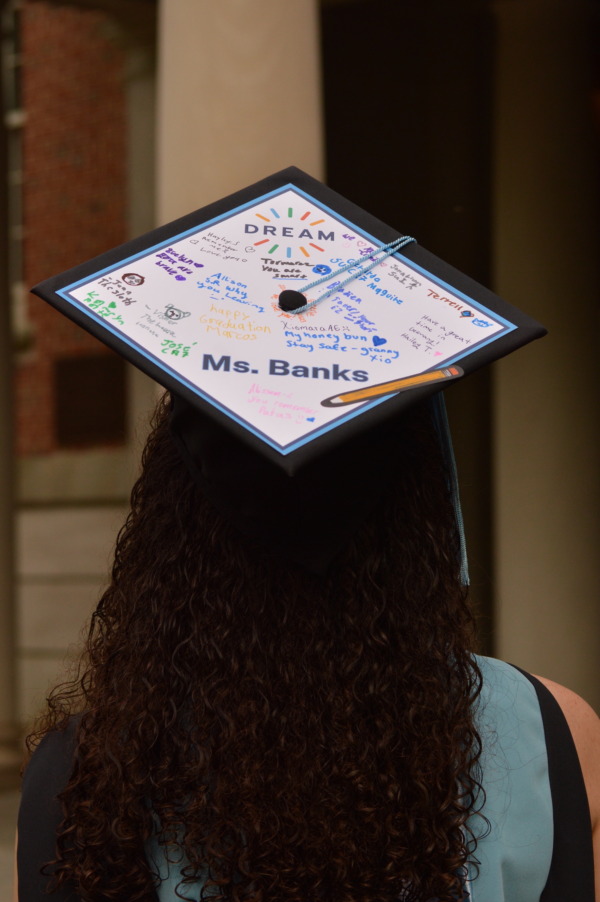 Looking ahead, Banks is eager to start her journey as a teacher at Glenn Elementary in Durham during the 2023-24 school year. She plans to remain dedicated to fostering her students' growth and creating an inclusive learning environment that inspires students personally and academically.
"I feel like my world of opportunities has broadened since I've entered college," Banks said. "Now, I continue to dream and pursue opportunities to see where they take me."
As the School's Student Teacher of the Year, Banks will compete statewide for the honor of being named Student Teacher of the Year, with the winner being announced in the fall.