In February 2023, the UNC School of Education announced the launch of a unique fellowship program to enable a multi-faceted approach to ensure highly effective educators serve students in rural, high-needs North Carolina communities. With a $3 million commitment over four years, the Fellows for Inclusive Excellence program would support current School of Education students — student teachers and school counselors-in-training — and recent graduates to serve rural schools.
Grace Landrum ('23 B.A.Ed.), a student in the Master of Arts in Teaching (MAT) program with a concentration in elementary and special education, is one of 14 students — in the MAT and School Counseling programs — in the inaugural cohort of the program.
"Through the MAT and Fellows programs, I am gaining a better understanding of how to support my students," said Landrum, who is student teaching this year at Carolina Community Academy in Roxboro, N.C. "Each student is unique, and I want to learn how to appropriately address their specific needs and become the supportive figure they require."
The Fellows program removes barriers and supports students in the School's MAT and School Counseling programs, as well as recent graduates of both programs, to serve in rural communities. Fellows, including Landrum, receive funding to earn their degrees and to travel to their schools, where they engage with and learn from mentoring educators.
Ultimately, the Fellows for Inclusive Excellence program aims to bring the School's students and recent graduates, many of whom go on to become some of North Carolina's most highly effective educators, to the rural schools that need them.
Pathway to creating impact
Growing up in a small town in rural North Carolina, Landrum's passion for teaching began in middle school. Influenced by the impact of her teachers, Landrum found herself reflecting on the ways they shaped her educational experience, resulting in her developing a desire to pay it forward to future students.
After graduating from high school in 2019, she attended Coastal Carolina Community College in Jacksonville, N.C., and received her associate degree in arts.
Landrum transferred to Carolina in 2021 and joined the School's Human Development and Family Science (HDFS) program. Through HDFS, she explored elements of education, human development, and counseling that solidified her passion to become an educator.
"Through HDFS, I gained a better insight into how families function, and the roles they play in children's lives in and outside of school," Landrum said. "This viewpoint equipped me to understand how to support the whole child, not just their academic performance."
"I want to be a supportive person for all students. I know that school is where students spend most of their time, so to provide a safe space for them. I want them to feel positive, supported, and to enjoy going to school."
After graduating from the HDFS program in May 2023, Landrum, a first-generation college graduate, continued her education through the School's MAT program. When searching for scholarship opportunities, Landrum found the Fellows for Inclusive Excellence program.
The Fellows program was designed to provide tuition and travel funding to support MAT and School Counseling program students as they intern and learn from experienced, effective teachers and counselors in Chatham and Person counties' Title 1 schools. Once graduated, Fellows will have the opportunity to apply and return to their schools or districts as new professionals, receiving a graduated bonus over three years, if they opt to stay.
The Fellows program holds the power to generate positive change within North Carolina's rural schools. It also provides essential support to future educators dedicated to serving high-needs schools.
After finding the Fellows program, Landrum sought guidance from a mentor teacher, drawing on his experience working in a Title 1 school. Encouraged by his insights into the rewarding nature of working in these schools and the potential to make a significant impact, she applied.
For Landrum, not only did the Fellows program provide a chance to connect with like-minded individuals and a support network, but it also aligned with her mission to provide supportive and inclusive teaching experiences for students.
"Growing up in a smaller town with numerous Title 1 schools, I know there are areas with a genuine need for support," Landrum said. "The Fellows program not only helps my academic journey but also allows me to bring quality education to areas where it is needed the most."
Supporting community
In August 2023, with the beginning of the North Carolina public school year, Landrum started as a student teacher at Carolina Community Academy (CCA), an innovative K-2 school located at North Elementary in Roxboro, N.C., and a partnership between UNC-Chapel Hill and Person County Schools.
At Carolina Community Academy, Landrum is provided with the space to learn and grow and to help implement crucial support systems for underrepresented students.
"At Carolina Community Academy, it's a tight-knit community where everyone knows each other," Landrum said. "The familiarity among students, teachers, and the daily morning greetings creates a home-like atmosphere. My time so far at CCA has been unique and, most importantly, fulfilling."
At CCA, Landrum's goal is to gain important professional insights from the school's staff and leadership on effectively supporting both students and the community.
"Through this program, I hope to be able to learn more about how education is presented in rural communities," Landrum said. "Community plays a major role in education, and I want to be able to create meaningful and purposeful connections with each of my students that result in lifelong memories and connection. Being a Fellow for Inclusive Excellence is better preparing me to teach in communities where education is being prioritized and student growth is valued."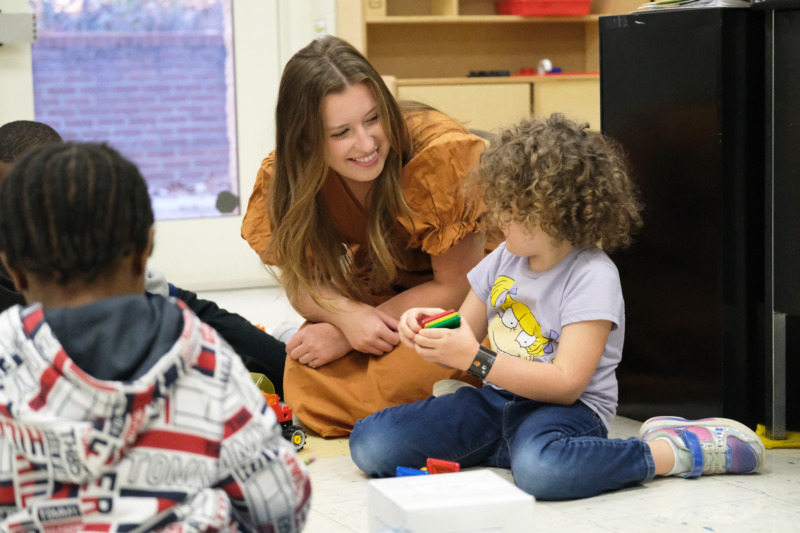 Landrum acknowledges that community is crucial in education.
As she reflects on her experiences so far within the School of Education, she said she found a strong sense of community and belonging, an inviting atmosphere that fostered a deep sense of connection and purpose.
"One thing I learned at the School of Education is that I have a strong support system, whether from faculty, professors, or fellow students," Landrum said. "When I transferred, I worried about finding friends and feeling accepted coming from a community college. However, I quickly found that I was welcomed into the community."
To Landrum, she recognizes that students who face challenges in school, or who feel unsure, need teachers who provide meaningful support. As a Fellow and student teacher, she aims to ensure students feel empowered in the classroom.
"I've always loved going to school," Landrum said." I've been fortunate to have wonderful teachers, professors, advisors, and a supportive community who have inspired my journey towards becoming an educator. My desire is to teach, to inspire children, and to be a supportive figure for them as they navigate their educational paths."
"I want to create a positive environment for my students so that they can look back and remember me as a teacher, but also look back at the sense of community that we created as a class."
To learn more about the Fellows for Inclusive Excellence program, visit ed.unc.edu/fellows-for-inclusive-excellence.