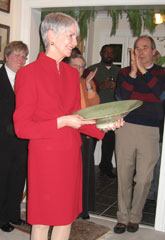 Effective Dec. 31, 2008, Jill Fitzgerald will complete her 18-month term as interim dean of the School of Education at the University of North Carolina at Chapel Hill. "It has been an honor and a privilege to lead the School and serve as its representative on campus and externally," said Fitzgerald. "Working to move initiatives forward and help other people understand the impact of our School has been very rewarding."
Fitzgerald, a renowned literacy scholar, joined the School's faculty in 1979 and has been in the administration since 2000. After serving as senior associate dean for a year under Dean Tom James, she was appointed interim dean following James' departure July 1, 2007.
"We were very fortunate that Jill Fitzgerald was willing to assume the role of interim dean during the past 18 months," said Executive Vice Chancellor and Provost Bernadette Gray-Little. "Jill is dedicated to education, to the School and to the University. She has worked tirelessly during the past year and half to move the School forward. She has been resourceful, creative and when needed, tough. It has been my pleasure to work with her."
Among many accomplishments under Fitzgerald's leadership, the School of Education took steps to strengthen its research infrastructure. A new position was created for a director of research development and a new structure was put in place for grants administration. "For many years, I have believed that a research director would be a beneficial resource for our School," noted Fitzgerald. "We have a very capable person in the position now, and I was happy to have the opportunity to make that a reality."
The research infrastructure was further strengthened by the establishment of a new seed grant fund to support pilot studies that will lead faculty to apply for funding for large investigations. Matching support for that fund was received from the Office of the Vice Chancellor for Research and Economic Development. Also under Fitzgerald's leadership, substantive faculty discussion occurred about research development in the School. As a result, several faculty recommendations are already being implemented.
In addition, during her tenure as interim dean, Fitzgerald and other faculty developed a strong relationship with the executive director and others at the James B. Hunt, Jr. Institute for Educational Leadership and Policy, which recently moved under the umbrella of the UNC-Chapel Hill campus. Faculty are conducting an evaluation of the Hunt Institute and working with the Institute on measurement and assessment issues. The School of Education's James Yadkin Joyner Fellowship is funding a doctoral student to work with the Hunt Institute in the area of policy. "We are building many substantive ways for the School of Education and the Hunt Institute to work together in policy development," Fitzgerald said.
Fitzgerald also provided leadership for UNC Tomorrow, a statewide initiative commissioned by UNC President Erskine Bowles to determine how the University can serve the citizens of North Carolina. Fitzgerald chaired one of the major committees—the Public Education Committee—for the UNC-Chapel Hill campus, leading efforts to define ways in which UNC-Chapel Hill will address North Carolina's public education challenges.
The School of Education's William C. Friday Distinguished Professor Lynne Vernon-Feagans, who participated in the UNC Tomorrow process, said, "Dean Fitzgerald was an important leader for the UNC Tomorrow initiative. Her vision for collaboration of UNC with North Carolina communities showed her ability to be innovative as well as capture the enthusiasm of her colleagues. Her vision will likely be the cornerstone of the entire UNC Tomorrow."
Under Fitzgerald's watch, three collaborative programs were started or re-energized through work with various partners. First, a new undergraduate program was launched in collaboration with the College of Arts and Sciences at UNC-Chapel Hill. UNC Baccalaureate Education in Science and Teaching (UNC-BEST) enables Carolina's undergraduate biology and physics majors to earn high school teaching licensure. Fitzgerald helped lead the program development for this innovative academic program. Additional funding from the U.S. Department of Education received this year, with Fitzgerald as co-Principal Investigator, will enable UNC-BEST to expand to include geological sciences and mathematics majors.
Second, the Leadership Center for Math and Science Teachers (LC-MaST) was created through a partnership of the School of Education with the Center for Teaching Quality. The mission of LC-MaST is to build abilities and leadership among mathematics and science teachers in under-resourced communities and assist them in achieving National Board Certification.
Third, the Research Triangle Schools Partnership (RTSP) was restructured. This collaboration between the School of Education and its neighboring public school districts is dedicated to improving schools and enhancing learning opportunities for all children. Newly energized, RTSP has awarded mini research grants to School of Education faculty and developed the Orange County Schools Initiative to provide systemic change to enhance student learning, pre-service teacher education, in-service teacher professional development and doctoral training in Orange County schools.
Reflecting on her tenure as interim dean, Fitzgerald emphasizes the many strengths of the School of Education. "We have nationally and internationally recognized scholars here whose work impacts how people in the field, both researchers and practitioners, think about education, teaching and learning, counseling, school psychology and administration," she said. "We have people here who lead innovation and reformation. Our faculty is generating the kind of knowledge that others across the country and around the world recognize for its potential to impact school and classroom transformation in ways that ultimately can make a difference in the lives of children and adolescents."
The School's impact in the state is very significant, too, she noted. "Last year, our faculty led more than 65 workshops and consultations for educators, schools and other educational organizations in North Carolina. This is a huge strength for us: Having faculty who are committed to taking the new knowledge that we generate out to people and working on the ground to help promote change."
Being at the helm of the School also has underscored Fitzgerald's appreciation for the School's programs and its outstanding teaching faculty. "We have very strong programs and many outstanding teachers," she said. "We have faculty who have received multiple University teaching awards, who really model the best of the best teaching."
When the new permanent dean, Bill McDiarmid, arrives in January, Fitzgerald will remain in the School's administration as senior associate dean for academic programs and chief academic officer. She will provide oversight and leadership to the School's academic programs, deal with policy issues and perform other duties.
Fitzgerald says she will leave the interim deanship with a feeling of accomplishment tempered with a sense of humility. "Many people have stepped up to help me," she said. "I appreciate the faculty, administrators and staff at our School who have been so supportive."
"We have worked together as a team, and I feel good about the initiatives that we have been able to advance," she added. "The work that we do here is so important and so critical. I am deeply grateful to be a part of it."