The School of Education welcomed two new scholars to its faculty this Fall – one who is a scholar on race issues and the other on science education and the use of technology in teaching.

Sherick Hughes, a native of Camden, N.C., who obtained his Ph.D. from the School of Education in 2003, came back to Chapel Hill from the University of Maryland-College Park, where he taught for five years. Prior to that, he taught at the University of Toledo. He joins the faculty as an associate professor.
Hughes is the author of the book "Black Hands in the Biscuits, Not in the Classroom: Unveiling Hope in a Struggle for Brown's Promise," which was given a Critics' Choice Award by the American Educational Studies Association. The book draws on Hughes's experiences growing up in rural northeastern North Carolina, reflecting on African-Americans' interactions with the education system and several families' successful struggles to overcome racial turmoil.
He has also written or co-authored numerous other books or book chapters, exploring various race issues. He co-edited "The Evolving Significance of Race: Living, Learning, and Teaching," which was nominated for the 2012 AESA Critics' Choice Award. He also has published articles and reviews in several peer-reviewed journals.
Hughes's research focuses on critical race studies and black education, the social context of schooling in urban and rural education, interdisciplinary foundations of education, and qualitative/mixed research methodology.
"I'm excited to be back home," Hughes said. He said that of seven children in his family, he was the only one able to attend Carolina.
"My hope is that I can make some contribution to the University and to the School of Education and to the state," Hughes said.
Kihyun "Kelly" Ryoo joins the School as an assistant professor of learning sciences.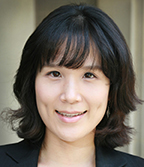 Ryoo obtained her Ph.D. and master's degrees from Stanford University, specializing in learning sciences and technology design.
Ryoo's research interests focus on the development and use of technology in teaching and learning, particularly in science education.
She is particularly interested in the role of technology in helping culturally and linguistically diverse students understand complex scientific phenomena and develop their academic language proficiency.
"I'm really interested in how technology can support diverse learners in understanding complex scientific concepts and also developing their literacy and language skills in science," she said. "So I have been working with science teachers in elementary and middle schools and developing technology-enhanced curriculum materials."
While integrating technology-enhanced curriculum materials in the classrooms, she also has studied how these materials enhance students' understanding of scientific concepts.
"One of the reasons why I am really excited about being here in North Carolina is that there is a growing population of culturally and linguistically diverse learners," she said." I'm really excited about opportunities to work with these students and their teachers and make positive impact on their education."