Jim Merrill (A.B.Ed. '73), superintendent of the Wake County Public School System, will give the commencement address at the School of Education's graduation ceremony on May 10.
Merrill, who was a Morehead Scholar at Carolina and earned a bachelor's degree in secondary English from the School of Education, has been superintendent in Wake County since August 2013. He previously served as superintendent of the Virginia Beach City Public Schools and Alamance-Burlington School System.
After graduating from Carolina, Merrill began his career as an English teacher in 1973 in the Winston-Salem/Forsyth County school system.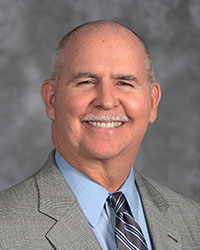 He first joined the administrative ranks in Wake County when he was hired to be an assistant principal at Enloe High School in 1984. Over the course of the next 16 years, Merrill moved up the administrative ranks in Wake County. He became a personnel director in 1986 and in 1990 he went from being director of personnel operations to assistant superintendent for human resources.
He became associate superintendent for administration in 1996, overseeing the system's budget and payroll, personnel, purchasing and data processing.
Merrill was hired to lead the Alamance-Burlington School System, where he was working when he was named North Carolina superintendent of the year in 2005.
In 2006, he went to his hometown of Virginia Beach, Va., to serve as superintendent of schools. In 2013 he was named the Virginia Superintendent of the Year.
At Virginia Beach, Merrill received national attention for the district's "Compass to 2015" plan, which called for 95 percent of students to graduate by 2015 with needed skills. Merrill appeared twice on the NBC Education Nation Summit, where participants talk about how to improve education.
Merrill earned his master's degree in education administration from Appalachian State University and his doctorate from UNC-Greensboro's School of Education, which has awarded him its Outstanding Achievement Award.
The UNC School of Education honored Merrill with its Distinguished Leadership Award in 2005.
In receiving his award, Merrill said: "When I arrived at UNC, I had no idea what I was in for. Four years later, I left ready to right the world … and make a mark."