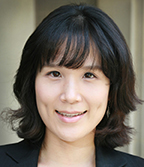 Kihyun "Kelly" Ryoo, an assistant professor of learning sciences in the University of North Carolina at Chapel Hill's School of Education, has been named a 2014 National Academy of Education/Spencer Postdoctoral Fellow.
Ryoo was one of 25 early-career scholars from around the world chosen for the award, one of the most competitive in the field of educational research.
"Dr. Ryoo is a leader in developing new technologies to teach fundamental scientific processes, systems, and concepts to children – especially to English language learners who are often challenged by scientific terminology," said Bill McDiarmid, dean of the School of Education.
"We are delighted that she has received this prestigious recognition," McDiarmid said. "Her work is certainly worthy of this distinction and she will no doubt continue to create innovations that support teachers in helping English language learners master challenging content.
Ryoo will receive a $55,000 stipend to support her research project entitled "Designing Effective Guidance for Visualization Technologies to Help English Language Learners Succeed in Mainstream Science Classrooms." Her proposed research will explore how to design effective guidance to help English language learners – or ELLs – benefit from dynamic visualizations and succeed in mainstream science classrooms.
The NAEd/Spencer Postdoctoral Fellowships are designed to promote scholarship on matters relevant to the improvement of education. Scholars who have completed their doctorates within the last five years are invited to apply for the fellowships.
Ryoo received her Ph.D. in Learning Sciences and Technology Design with a specialization in Science Education from Stanford University, where she also earned her M.A. in Learning, Design and Technology. She received a bachelor's degree in Health Education from Ewha Womans University in Korea.
She joined the School of Education faculty in 2012.
Ryoo's research interests focus on the intersection of technology design, science education, and culturally and linguistically diverse learners. She studies how the use of technology can support science teachers' practice and facilitate instruction for diverse learners, particularly ELLs and language-minority students.
Ryoo studies the use of visualizations, similar to computer-based animations, which can be manipulated by students who are learning about scientific concepts.
Earlier this year, Ryoo won a $44,000 Spencer Foundation grant to extend research she has done on using visualizations to teach science topics to middle school students. This project investigates how different types of visualizations can help ELLs and their non-ELL peers in linguistically diverse classrooms understand scientific concepts.
NAEd administers the postdoctoral fellowship program with funding from the Spencer Foundation. Since the program's inception in 1986, more than 740 current and former fellows, including many of today's strongest education researchers, have been awarded the fellowship.