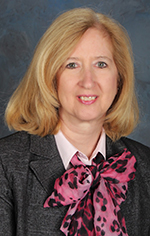 Darlene Ryan (A.B.Ed. '78, M.Ed. '03, Ed.D. '11) has been named the Chapel Hill Carrboro City Schools 2014-15 Principal of the Year.
Ryan has been principal at Glenwood Elementary School since 2010, after serving the same school as assistant principal for two years.
"Chapel Hill-Carrboro City Schools is very fortunate to have such an outstanding leader working with teachers and students at Glenwood Elementary School," said Thomas A. Forcella, superintendent of Chapel Hill-Carrboro Schools.
It's not the first education honor Ryan has won. In 1996, she was named North Chatham Elementary School Teacher of the Year and three years later, in 1999, she was named North Carolina's Technology and Learning Teacher of the Year.
She also received in 1999 the North Carolina Science Leadership Association's Herman Gatling Award for Outstanding Science Education Leadership.
The School of Education gave her its Excellence in Teaching Award in 2002.
Ryan began her education career in Chatham County Schools as a health/physical education teacher. Since then she has taught elementary, middle and high school students, and has taught middle school science and social studies before becoming a science curriculum resource teacher in Chatham County.
She joined Chapel Hill-Carrboro Schools in 1986, working for three years as an elementary physical education teacher. She returned in 2004 as the system's math and science coordinator, serving in that position for four years.
She has served as the President of the North Carolina Science Leadership Association and as the Director of District 5 for the North Carolina Science Teacher Association (NCSLA).
She will represent Chapel Hill-Carrboro in the Wells Fargo Principal of the Year program.
More details here.