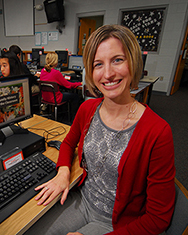 After 11 years as an educator, middle school library media specialist Kristen Ziller knows students. And she knows they can have wandering minds, making it tough to keep them engaged in their learning.
So she recently took part in a project that demonstrated something that grabs – and holds – students' attention: investigating their family histories.
"As a media specialist, I am always looking for projects that are true inquiry experiences, and to me you cannot get a more engaging inquiry experience than this," said Ziller, who participated in a collaboration between Ancestry.com and the University of North Carolina at Chapel Hill School of Education's outreach arm, LEARN NC, to create a multimedia how-to guide for teachers to use family history resources in their classrooms. Ziller works at Durant Road Year-Round Middle School in Raleigh and was one of ten educators who took part in the enterprise.
"The most effective projects are those where students make connections," she said. "I can't think of a better way for students to connect with the curriculum than by making connections to their own family history."
The guide – "Family History in the Classroom" – was unveiled Thursday (Nov. 20) at the National Council for the Social Studies annual conference in Boston. The 167-page guide is available for free in an e-book format, using the Apple iBook software platform, or in PDF format for other users. It includes embedded videos and other presentations by teachers organized by LEARN NC to create the guide.
"We learned by working on this project that it is powerfully engaging to have middle school and high school students delve into family history research," said Cheryl Mason Bolick, associate professor and director of research and professional development for outreach at the UNC-Chapel Hill School of Education. Bolick helped lead the LEARN NC project, which was funded with a $199,000 grant from Ancestry.com.
"Students and their teachers shared exciting moments of discovery that pushed them on to even deeper research," Bolick said. "We found these family history resources to be an extremely effective teaching tool."
Ziller worked on her portion of the project with language arts teacher Laura Richardson and 26 of Richardson's students. The project started with students interviewing family members to discover stories to investigate. Students wrote and discussed with their classmates reflections on what they had learned. Each student then designed a "research path" to guide their work with Ancestry.com online resources.
Richardson said she'd never seen students so engaged.
"There's typically in every research project I've ever done, no matter how well I think I prepared that lesson, there's always a point where you have a couple students who are staring at the skylights," she said. "They're more interested in the flickering light than they are in you."
But this project was different, she said.
"I have never seen, from Point A to Point B, students being engaged in every single step," Richardson said. "There's no way for a child not to be engaged in this. It's about them. What teenager, when it's all about me in this selfie age, what project would they not want to do when it's all about them?"
Richardson and Ziller said the work aligned well with new teaching standards that call for higher student proficiencies in listening, speaking, conducting research and using modern technology tools. The new standards also call on students to do more work with documents and other historical resources, and then to draw their own conclusions from them.
Ziller said one of her students traced his grandfather's journey from Russia through the Ellis Island immigration port and found him listed as a "huckster" in the 1940 census.
"This was a new term for both of us, so I encouraged the student to explore what a huckster was," Ziller said. "He found out that hucksters were traveling salesmen that could be pushy and showy to sell their products."
She said the work made the past feel real to her students.
"They will never forget the connections they they've made between their family and what was going on in the world," she said.
Creating new resources for schools
For Ancestry.com, the new iBook is a step in creating better resources to support family history curriculum in schools.
"Ancestry is excited to share our resources with students and teachers across America. Using primary sources to learn directly from those who lived history is very exciting," said Brock Bierman, senior director of Ancestry Education. "When you read the personal account of a Revolutionary Soldier through his pension application for example, I think it gives the reader a better sense of what life was like for them during that period of time and perhaps even, enables them to travel in his as he fought for independence."
Earlier this year the company began offering Ancestry K-12 (http://www.ancestryk12.com), a program that makes record collections from U.S. Census records from 1790 to 1940, as well as military records and historical content from its Fold3.com and Newspapers.com websites, available to teachers for free.

Curriculum developed by team of educators
The curriculum guide was created by a team that included curriculum and instructional design specialists from LEARN NC and 10 middle school and high school teachers and library media specialists.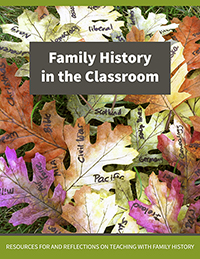 The project began in January with a three-day meeting that included professional development sessions in which Ancestry.com representatives demonstrated the company's online resources. The team also heard presentations by UNC-Chapel Hill faculty members Robert Allen, a digital humanities expert, historian Heather Williams, American Studies professor Tim Marr and David Hicks, University of Virginia associate professor of education who specializes in history and social science teaching.
Participants then worked together for three months, doing shared readings and contributing to online discussions in which they designed plans for how to use the Ancestry resources.
"We employed a professional development model, with participants engaging in a series of writing and feedback workshops to better ensure success of the project and that it would prove valuable to participants," Bolick said.
Among the project's goals was developing ways for students to integrate literacy skills among several disciplines, encourage analytical thinking and create opportunities for collaboration and communication.
"We wanted to demonstrate the value of family history and how it can be used to encourage students to dig into historical records and experience the joys of discovery," Bolick said.
Seven of the participating educators each wrote a chapter of the guide in which they described their individual research project and how they went about conducting it. They also described how their students responded to the assignments.
"Family History in the Classroom" is available for download on the LEARN NC website in iBook and PDF formats at http://www.learnnc.org/lp/pages/7969. It is also available in Apple's iTunes online store.
Contact: Michael Hobbs, UNC-Chapel Hill School of Education, 919-962-8687, michael_hobbs@unc.edu.