Paul Cuadros, a member of the faculty at Carolina's School of Journalism and Mass Communication, will give the Commencement address at the School of Education's graduation exercises on May 9.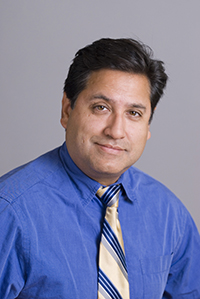 Commencement will begin at 1 p.m. in the Dean E. Smith Center.
Cuadros is an award-winning investigative journalist who wrote a book about his experience creating a soccer program at a Chatham County high school, and coaching the boys team to a state championship. Cuadros's book – "A Home on the Field: How One Championship Soccer Team Inspires Hope for the Revival of Small Town America" – was made into a Hulu and NuvoTV documentary series – "Los Jets" – that aired in 2014.
"A Home on the Field" was the summer reading selection at Carolina in 2009.
At Carolina, Cuadros serves as the chair and executive director of the UNC Scholars' Latino Initiative, a mentoring and college preparatory program that pairs UNC students with Latino high school students at six area high schools.
Cuadros is also the co-founder of the Carolina Latina/o Collaborative, which is the Latino educational and cultural center at UNC. He is also co-founder of the Latina/o Caucus, a university coalition of faculty and staff on campus that advocates for Latino interests at the university.
Cuadros's family came to the U.S. from Peru in 1960. Cuadros worked as a journalist, writing for the New York Times, Time magazine and Salon.com, among other publications.
In 1991 he won an Alicia Patterson Foundation fellowship to write about the impact of the large numbers of Latino poultry workers in rural towns in the South. He moved to Pittsboro to conduct his research and stayed to document the growing Latino community.
He created the soccer program at Jordan-Matthews High School in Siler City, coaching both the boys and girls teams. In three years he coached the boys team to a state Division 2-A championship. His book and the documentary series are about that experience.
Cuadros is a co-recipient of the 2006 Alfred I. duPont-Columbia Journalism Award, Team Award, for his contribution to the radio series "North Carolina Voices: Understanding Poverty" broadcast on WUNC-FM. He has won the National Association of Hispanic Journalist's award for online reporting, and he won the UNC Diversity Award in 2012 for his work on campus opening doors for minority students, faculty and staff.