Taylor Hamby, a 2015 Carolina graduate, is in her first year of teaching American history at Walkertown High School, northeast of Winston-Salem. But she isn't yet fully certified to work in the classroom.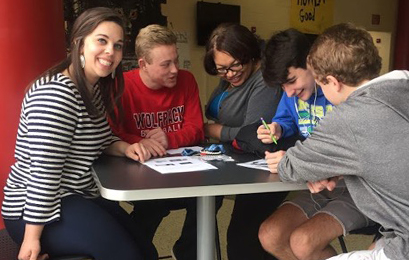 Hamby, along with more than 4,300 other teachers across North Carolina, is a "lateral entry" teacher – someone who has the content knowledge to teach a subject, but still needs to obtain a teaching license.
Click here if you are working as a lateral entry teacher and want more information about this new program.
Click here if you are interested in learning more from N.C. Department of Public Instruction about becoming a lateral entry teacher.
UNC-Chapel Hill and North Carolina State University are partnering to offer an innovative program intended to help the state address its teacher shortage by providing a new way for teachers like Hamby to become fully certified.
Of the lateral entry teachers that the state employs, more than 850 of them work in school districts near the Carolina and NC State campuses.
"We expect that this new initiative will bring to bear strengths of our two campuses in helping the state of North Carolina address a critical need," said Fouad Abd-El-Khalick, dean of Carolina's School of Education. "This initiative will help improve learning for tens of thousands of school students across the state."
Mary Ann Danowitz, dean of the College of Education at NC State, added: "Given our growing need for new teachers, North Carolina must expand its ability to supply qualified educators for our classrooms. This program will help address that problem."
The program, to be offered completely online, will open in the fall. In its first-year pilot phase, the program will enroll approximately 50 participants, but will be designed to quickly expand, said Diana Lys, assistant dean for educator preparation at the School of Education and one of the program organizers.
"We've designed this program to make it convenient for working lateral entry teachers, making it possible for them to master the competencies they need while they remain in their jobs and to gain knowledge that will help strengthen their effectiveness," Lys said.
The program should take participants 12 to 18 months to complete and cost less than $5,000, she said.
Taylor Hamby (left), is a 2015 Carolina graduate who majored in political science and sociology. She's in her first year of teaching American history as a lateral entry teacher at Walkertown High School near Winston-Salem. She plans to apply to enter the new lateral entry program to gain the pedagogical tools she needs in her work.
Before joining Walkertown High School in August 2016, Hamby graduated from Carolina with a double major in political science and sociology, and substituted at a middle school. As she looks to her future, she said the lateral entry program offers a unique opportunity.
"The program streamlines everything, which really interests me because you would spend no more than 18 months instead of three years," Hamby said. "I could have my full-time license and build my career from there."
"I've learned a lot being in the classroom, but it would be good to actually learn pedagogy and more about how to teach," Hamby said. "I feel like I'm practicing these things, but don't always know why. I hope that I am accepted and, like many others, will not struggle as much with lateral entry."
Demand great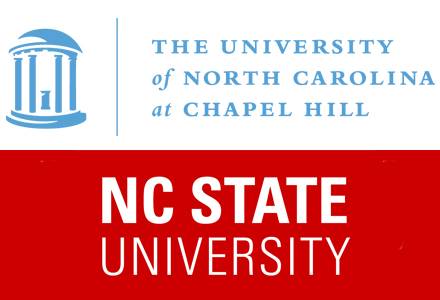 The program is needed because school districts must rely more heavily on hiring lateral entry teachers to fill vacancies, said Michael Maher, assistant dean for educator preparation and accreditation at NC State's College of Education and one of the program's organizers. But lateral entry teachers leave the profession at a rate 79 percent greater than other teachers.
"This program will provide lateral entry teachers with the teaching skills and knowledge they need to be successful in the classroom, thus assisting in their retention in North Carolina public schools," Maher said.
The program will draw on expertise from faculty at the two campuses in the areas of teacher preparation, online and distance education, and competency-based instructional models, Lys and Maher said. The program will be offered in a partnership with D2L, a company that provides online platforms for university courses and has experience establishing and maintaining online competency-based education programs.
The program initially will offer preparation in the content areas mathematics, science, English/language arts and social studies. Organizers expect the program to be expanded in the future to offer a preparation program in special education.
"There is great demand for this type of preparation," said Lys. "We hope that eventually we will be able to enroll hundreds of people in this program.