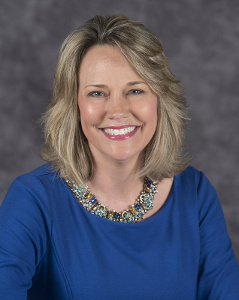 Lisa Godwin (M.S.A. '09), a kindergarten teacher in Onslow County, has been named the 2017 Burroughs Wellcome Fund N.C. Teacher of the Year.
Godwin, who was selected from a field of nine finalists representing the state's eight education districts and charter schools, is in her third year as a teacher at Dixon Elementary School in Holly Ridge. Previously, she has worked as an assistant principal for four and half years in Onslow and Lee county schools.
"Every day, Lisa gives her students the support and encouragement that lay an essential foundation for them to keep learning across the grades and beyond," State Superintendent Mark Johnson said in announcing the award on Thursday. "She reaches out to their parents to build trust and reinforce learning in the home, and she leads her colleagues with respect and by example."
Godwin pursued a nursing career first, attending Sandhills Community College. After her twin sons started school, she took a job in 1997 as a teacher assistant at Tramway Year Round Elementary School in Sanford. She later earned her teaching degree from St. Andrews Presbyterian College in Laurinburg and taught kindergarten for three years at Deep River Elementary School in Sanford.
She came to Carolina's School of Education to earn a master's degree in school administration in 2009. She then served as assistant principal at J. Glenn Edwards Elementary School in Sanford and Meadow View Elementary School in Jacksonville.
Related Links
EdNC reports on Godwin's award
Godwin reacts to being named Teacher of the Year (video)
Godwin said in her nomination submission that she chose to return to teaching from administration because she believed she could have a greater impact in the classroom.
"I truly missed the daily, positive interaction with my own classroom of students," she wrote, "and knew that I could be a greater change agent from within."
Godwin is a mentor teacher at Dixon Elementary, supporting new teachers, and serves on a number of Onslow County Schools groups. She's an active member of the Surf City Baptist Church and is involved with a number of community organizations and charitable events, some sponsored by the surf shop that she and her husband own in Surf City.
As N.C. Teacher of the Year, Godwin will spend the next school year traveling the state as an ambassador for the teaching profession. She also will serve as an advisor to the State Board of Education for two years and as a board member for the N.C. Public School Forum for one year. In addition, the North Carolina Department of Public Instruction will sponsor her enrollment and completion of the Public School Forum's Education Policy Fellowship Program.
Read the N.C. DPI news release here.