Online program aims to help North Carolina address its growing teacher shortage
Applications are being accepted for a program designed to help people who have been hired to teach in North Carolina schools and need to complete their teaching certification.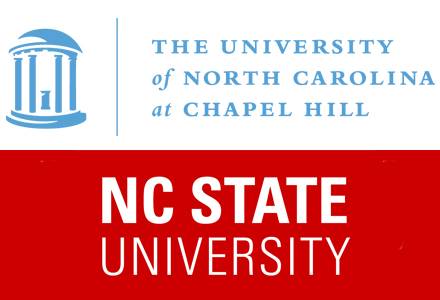 The online program, which begins in October, is intended to help the state address its widening teacher shortage by providing a new avenue for "lateral entry" teachers to gain licensure. Lateral entry teachers are people who have content knowledge and have been hired to fill teaching vacancies but have yet to obtain teaching licensure.
"We are looking forward to welcoming our first cohort to this program," said Fouad Abd-El-Khalick, dean of the School of Education at UNC-Chapel Hill. "We are confident that this program will improve learning for tens of thousands of students as we help our state address the need for well-trained, qualified teachers in our schools."
Mary Ann Danowitz, dean of the College of Education at NC State, added: "As our schools rely heavily on lateral entry teachers, we have developed a program to help the state prepare and certify these teachers for effective work in our schools.
Addressing a rising need for lateral entry teacher preparation
The "Pathway to Practice NC" program will be delivered entirely online, making it accessible to people from anywhere in the state, said Alison Winzeler, the coordinator of the program.
It will be an accelerated program, with participants needing 12 to 18 months to complete, Winzeler said. The program will cost approximately $5,000, she said.
The program will draw on expertise from faculty at the two campuses in the areas of teacher preparation, online and distance education, and competency-based instructional models, said Diana Lys, assistant dean for educator preparation at the UNC-Chapel Hill School of Education and another of the organizers of the effort.
The program will be delivered through D2L's Brightspace, a company that provides online platforms for university courses and has experience establishing and maintaining online competency-based education programs.
North Carolina school districts are having to rely more heavily on hiring lateral entry teachers to fill vacancies, said Michael Maher, assistant dean for educator preparation and accreditation at NC State's College of Education and one of the program's organizers.
North Carolina employs more than 4,300 lateral entry teachers, according to a 2015 report by the State Board of Education. More than 850 of them work in school districts near the UNC-Chapel Hill and NC State campuses.
Lateral entry teachers are leaving the profession at a rate 79 percent greater than other teachers, pointing to the need for more effective preparation for them, Maher said.
"We've designed this program to provide lateral entry teachers with the teaching skills and knowledge they need to be successful in the classroom thus assisting in their retention in North Carolina public schools," he said.
The program initially will offer preparation in the content areas mathematics, science, English/language arts and social studies for teachers in grades 6-12. Organizers expect the program to be expanded in the future to offer a preparation program in special education.
The program will have capacity for approximately 50 participants in its first year, but will be designed so that it can quickly expand.
The program development is supported by a $148,000 grant from the UNC system's General Administration, which sought requests for proposals from system campuses for new academic programs that would use competency-based education principles. Competency-based education typically relies on instruction that focuses on students learning and demonstrating mastery of concrete skills.
Program designed to address teaching standards
While the program will use D2L learning management software, as with all UNC system competency-based pilot programs, curriculum decisions and content development will be controlled by faculty, ensuring rigor and that the programs meet academic standards, Winzeler said.
The program will be designed to address the N.C. Professional Teaching Standards, Digital Learning Competencies and additional competencies developed by faculty at the two universities to address discipline-specific teaching strategies.
Organizers also plan to work closely with leadership of area school districts to identify additional competencies that address local needs.
The program will be more extensive than current lateral entry certification requirements. Lateral entry teachers currently are required to complete 18 hours of coursework over a three-year period. Those requirements are typically met by lateral entry teachers taking a variety of courses from different institutions, leading to inconsistency and lower-quality preparation, said Winzeler.
The "Pathway to Practice NC" self-paced and online design provides a more coherent program of study, allowing participants to complete it more quickly and at less cost, and from any part of the state, Winzeler said.
To learn more about the "Pathway to Practice NC" program, go to http://pathwaytopractice.com.
About the University of North Carolina at Chapel Hill
The University of North Carolina at Chapel Hill, the nation's first public university, is a global higher education leader known for innovative teaching, research and public service. A member of the prestigious Association of American Universities, Carolina regularly ranks as the best value for academic quality in U.S. public higher education. Now in its third century, the University offers 77 bachelor's, 110 master's, 64 doctorate and seven professional degree programs through 14 schools and the College of Arts and Sciences. Every day, faculty – including two Nobel laureates – staff and students shape their teaching, research and public service to meet North Carolina's most pressing needs in every region and all 100 counties. Carolina's 317,000-plus alumni live in all 50 states and 156 other countries. More than 167,000 live in North Carolina.
About NC State University
NC State was founded with a purpose: to create economic, societal and intellectual prosperity for the people of North Carolina and the country. The university began as a land-grant institution teaching the agricultural and mechanical arts, and today stands as a pre-eminent research enterprise that excels in science, technology, engineering, math, design, the humanities and social sciences, education, textiles and veterinary medicine. NC State students, faculty and staff take problems in hand and work with industry, government and nonprofit partners to solve them. The university's 34,000-plus high-performing students apply what they learn in the real world by conducting research, working in internships and co-ops, and performing acts of world-changing service. That experiential education ensures they leave here ready to lead the workforce, confident in the knowledge that NC State consistently rates as one of the best values in higher education.
UNC-Chapel Hill School of Education contact: Mike Hobbs, (919) 962-8687,
michael_hobbs@unc.edu
NC State College of Education contact: Cherry Crayton, (919) 515-5912,
ckcrayto@ncsu.edu