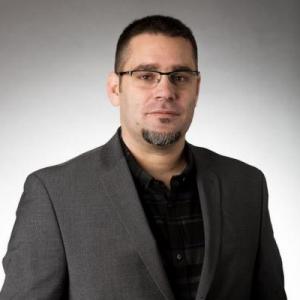 Trey Adcock (Ph.D. '12), an assistant professor of education at the University of North Carolina at Asheville, has been named a 2018-2019 Public Engagement Fellow by the Whiting Foundation.
The honor recognizes scholars who work to champion the role of humanities in enriching public life. The fellowship carries a $50,000 award that is intended to support Fellows' projects.
Adcock teaches in education, UNC-A's Interdisciplinary Studies Program and is director of the university's American Indian and Indigenous Studies program.
Adcock was chosen for the fellowship due to his work to document the history of the Snowbird Day School, a Quaker-led school for young Cherokee Indians in Western North Carolina in the 19th century.
Adcock plans to use fellowship support to record and preserve oral histories from the approximately 80 former Snowbird students who are still living and the last surviving teacher. Adcock, himself a member of the Cherokee Nation, will work with tribal members to design a multimedia digital gallery and a photography exhibit that will travel through Western North Carolina before being added to the permanent collection of the Junaluska Museum in the Tuti yi community near Robbinsville, N.C.
Adcock earned his Ph.D. in Culture, Curriculum and Change. He had been awarded a Sequoyah Dissertation Fellowship for the 2011-12 academic year, which conveys membership in the Royster Society of Fellows, the highest honor awarded by UNC-Chapel Hill's Graduate School to graduate students at Carolina.