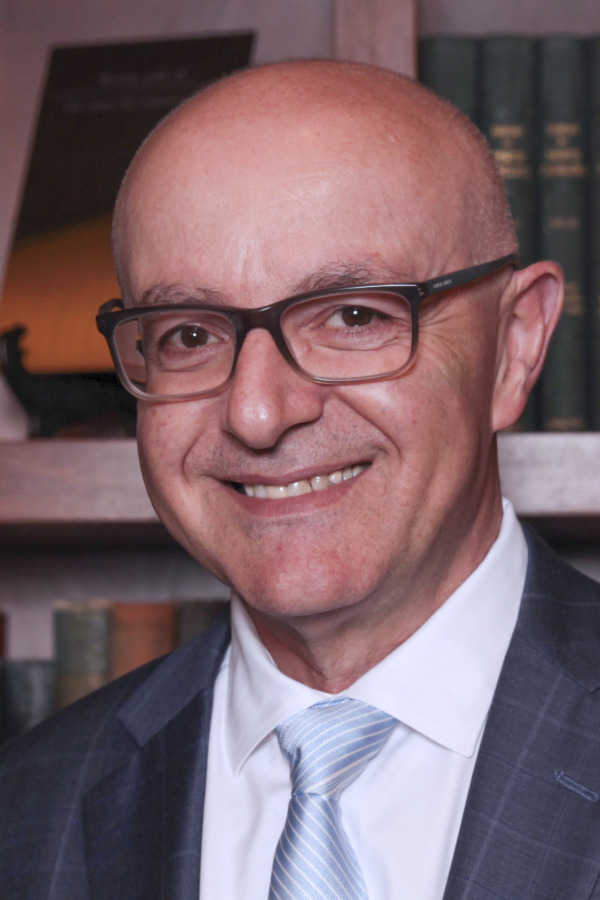 Moise Khayrallah, who earned his doctorate in educational psychology at the School of Education before embarking on a career in pharmaceutical development, has donated funds to establish a fellowship program for master's degree students at the School.
Khayrallah's gift will establish the Moise A. Khayrallah Innovation Fund, which will support selected students in the Master of Arts in Educational Innovation, Technology and Entrepreneurship (MEITE) program. In its initial year, the fund will fully support eight master's students.
Learn more about MEITE
Carolina's MA in Educational Innovation, Technology and Entrepreneurship is a professional master's program in which students learn to develop the leading edge of educational technologies and curricula.
"Dr. Khayrallah's gift is a timely and crucial vote of confidence from an exceptionally successful entrepreneur for a new and quite unique program at our School," said Fouad Abd-El-Khalick, dean of the School of Education.
The program is unique even among the handful of similar programs across the nation; it combines learning science, learning technologies and entrepreneurship to support master's students who have capacity to bring real innovations to teaching and learning.
"This new program embodies our School's entrepreneurial mindset and trend-setting goal by bringing the power of educational sciences to bear on transforming and reinventing teaching and learning well beyond the traditional bounds of schooling," Abd-El-Khalick said.
Khayrallah, chief executive officer of Emergo Therapeutics Inc., his latest drug development company based in Research Triangle Park, also serves as co-chair of the School of Education's fundraising campaign.
Khayrallah, who lives in Chapel Hill, has been involved in drug development for 30 years. He credits his doctoral education and training at Carolina for giving him tools and insights that have guided his success in managing research projects and organizing and leading successful teams.
Khayrallah has been involved in drug development since going to work for the pharmaceutical firm Burroughs Wellcome in 1987 while working on his doctorate. He advanced at Burroughs Wellcome, which later merged to become Glaxo Wellcome, and then worked at other pharmaceutical, contract research and biotechnology firms.
"I owe a big debt of gratitude to the School of Education because it was so instrumental in what I have been able to accomplish," Khayrallah said. "I've been wanting to contribute back, and this seemed like the right opportunity."
A master's program for innovators
Now in its second year, the MEITE program is designed for innovators who want to engage in work transforming education both within and outside of traditional school-based careers. The program explores educational technologies, learning science, entrepreneurship and includes training designed to help students develop and bring innovations to the marketplace.
MEITE students take courses in the Kenan-Flagler Business School, the School of Information and Library Science, and the Department of Computer Science and serve in internships in Research Triangle companies or innovative educational organizations.
"Dr. Khayrallah's generous gift makes it possible for us to recruit top competitive talent in educational innovation, technology and entrepreneurship," said Lisa Dawley, director of the MEITE program. "We fully anticipate many of these students will create educational solutions and businesses, literally inventing the future of learning."
A central component of the new gift will be the establishment of the Moise A. Khayrallah Innovation Fellows, a competitive program in which selected incoming students will receive scholarship support. Fellows will serve in a year-long internship at the Carolina Center for Excellence in Education, engaging in learning innovation design, with the potential to spin-out new educational products and services.
"This gift allows our fellows to not only explore a variety of career pathways related to learning innovation design, leadership, and edupreneurship, but it also seeds the development of new learning innovations that can be scaled to larger contexts," Dawley said. "Dr. Khayrallah is funding the engine that will drive future educational innovation and research in partnership with local business and investors."
A foundation built at the School of Education
A native of Lebanon, Khayrallah was a master's student at American University of Beirut when colleagues encouraged him to pursue a doctorate at UNC-Chapel Hill.
Early in his academic career at Carolina he studied statistics, including with School of Education faculty member Bill Ware. He also pursued interests in educational technology with the late faculty member Wally Hannum. Khayrallah completed his Ph.D. in educational psychology, with a dissertation committee chaired by psychology professor Peter Ornstein.
Khayrallah said he was given opportunities to apply his statistics training in research projects on campus, leading to first job at Burroughs Wellcome.
"All of my early work was on campus, and this is the credit I give to the School because my professors gave me opportunities to further my research interests," Khayrallah said.
Khayrallah described his entry into the pharmaceutical field as being through a "back door" in that his training was in research methods and statistical analysis, not chemistry or pharmacology. His skills were relied upon to conduct analysis of clinical trials, then to plan research programs to develop and test new drugs.
Khayrallah said his studies prepared him for the type of work he does in drug development.
"In the social sciences you learn how to do research – how to move from Point A to Point B," Khayrallah said. "What sort of hypotheses are you testing? What do you have to do? What do you have to prove? What sort of questions do you ask, and not ask?
"It's really thinking about how do I maneuver a hypothesis to prove it? And that's what we do a lot of in the pharmaceutical world," he said. "These building blocks of technology and the techniques of doing the research – the statistics tools that you need and the research tools – and also this thinking process I acquired when I was at the School. I credit the School for that."
Building educational environments of the future
Khayrallah said he became excited to support the vision of the MEITE program, with its emphases on educational technology and entrepreneurship, after conversations with Abd-El-Khalick and Dawley.
"How can we be at the forefront of what education is going to be down the road, ten or 20 years from now?" Khayrallah said.
"We want to create an environment that fosters innovation and technology and entrepreneurship and helps students help others, but also come up with ideas that can become companies eventually," he said. "So, this can become like an incubator for these companies, and then we spin them off and they produce useful technology.
"That's been done in other places and in other industries, but not so much in education. We would love for UNC and the School of Education to become known for that."