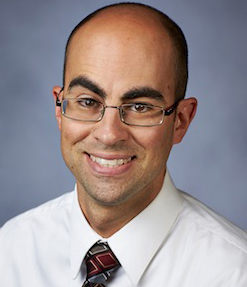 Matt Bernacki, a researcher who has studied students' learning with technology, is joining UNC-Chapel Hill's School of Education. He is one of six new tenure-line faculty members recruited to join Carolina this year.
Bernacki, who previously was an assistant professor in educational psychology and learning sciences programs in the College of Education at the University of Nevada, Las Vegas, joins Carolina's learning sciences faculty.
"I'm looking forward to Dr. Bernacki joining our school," said Dean Fouad Abd-El-Khalick. "We continue to build our strengths in the learning sciences, and we are confident he will contribute to that work right away — especially in the areas of big data and data analytics."
Bernacki's research has focused on students' motivational and metacognitive processes when learning with technology. His work uses "digital traces" of learning events to model students' self-regulation of learning and relations to achievement. A chapter describing methods of digitally tracing learning appeared in the latest "Handbook of Self-Regulated Learning and Performance."
He also conducts research on the personalization of math instruction to students' out-of-school interests. His recent scholarship on personalization appeared in a recent issue of the Journal of Experimental Education and in the March edition of the Journal of Educational Psychology.
Bernacki is the principal investigator of the National Science Foundation-funded "Learning Theory and Analytics as Guides to Improve Undergraduate STEM Education" project and serves as co-principal investigator on a recently awarded NSF S-STEM project at the UNLV School of Life Sciences. In each project, he leads efforts to develop students' learning skills through the digital "Science of Learning to Learn" training program, and to develop behavior-based prediction models that use students' activity in their learning management system course site to provide real time alerts to struggling students before they begin high-stakes exams.
Bernacki earned his Ph.D. in educational psychology in 2010 from Temple University. He also holds master's degrees in experimental psychology from Saint Joseph's University and social work from Temple University. He joined the UNLV faculty in 2013.