James Anderson, dean of the College of Education at the University of Illinois at Urbana-Champaign and a leading scholar of the history of African-American education, will visit the School of Education March 5-6, giving two public talks.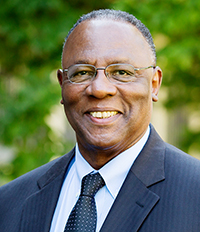 Anderson is the Edward William and Jane Marr Gutgsell Professor of Education at Illinois and is an affiliate professor of history there. He is considered a leading authority on the history of African American education in the South, the history of higher education desegregation, the history of public school desegregation, and the history of African American school achievement in the 20th century.
Anderson will give two public lectures, both free and open to the campus and community:
Monday, March 5
"A Long Shadow: The American Pursuit of Political Justice and Education Equality"
Location: Murray Hall, G202 Auditorium
Time: 5:30 p.m.
Tuesday, March 6
"Pursuing Equity and Social Justice in the Current Political Terrain"
Location: Peabody Hall, Room 02
Time: Noon
Anderson's March 5 talk is expected to examine the history of disenfranchisement since the close of the Civil War and its contributing role in limiting educational opportunity for black Americans.
From rural Alabama to Illinois
A native of rural Alabama, Anderson attended Stillman College in Tuscaloosa on a scholarship before moving 650 miles to Champaign, Illinois, to enroll in a master's program for prospective teachers. After completing his M.Ed. in history and social studies education in 1969, Anderson entered a doctoral program at Illinois, earning his Ph.D. in history of education in 1973.
He joined the faculty as an assistant professor in educational policy studies in 1974 and has been at the University of Illinois for the 44 years since.
Anderson is renowned in his field.
In 2012, he was selected as a Fellow for Outstanding Research by the American Educational Research Association (AERA) and received the Lifetime Achievement Award from the American Association of Colleges for Teacher Education.
He has won numerous awards for his scholarship, including the AERA's outstanding book award for "The Education of Blacks in the South, 1860-1935." He serves as senior editor of the History of Education Quarterly. He was elected to the National Academy of Education in 2008. In 2013, he was selected Center for Advanced Study Professor of Education Policy, Organization and Leadership at the University of Illinois.
Anderson has served as an expert witness in a series of federal desegregation and affirmative action court cases. He served as an adviser for and participant in the PBS documentaries "School: The Story of American Public Education" (2001), "The Rise and Fall of Jim Crow" (2002) and "Forgotten Genius: The Percy Julian Story."

A shadow over education
Anderson's March 5 talk is expected to update the 2014 talk he gave for the AERA's Eleventh Annual Brown Lecture in Education Research. That lecture attracted a record-setting audience of 700 on-site attendees. More than 500 others viewed a live stream of the lecture online, having gathered at sites Alabama, Louisiana, New York, Illinois, Kansas, Utah, and Washington state.
That lecture drew national media coverage, including stories in U.S. News & World Report and Education Week.