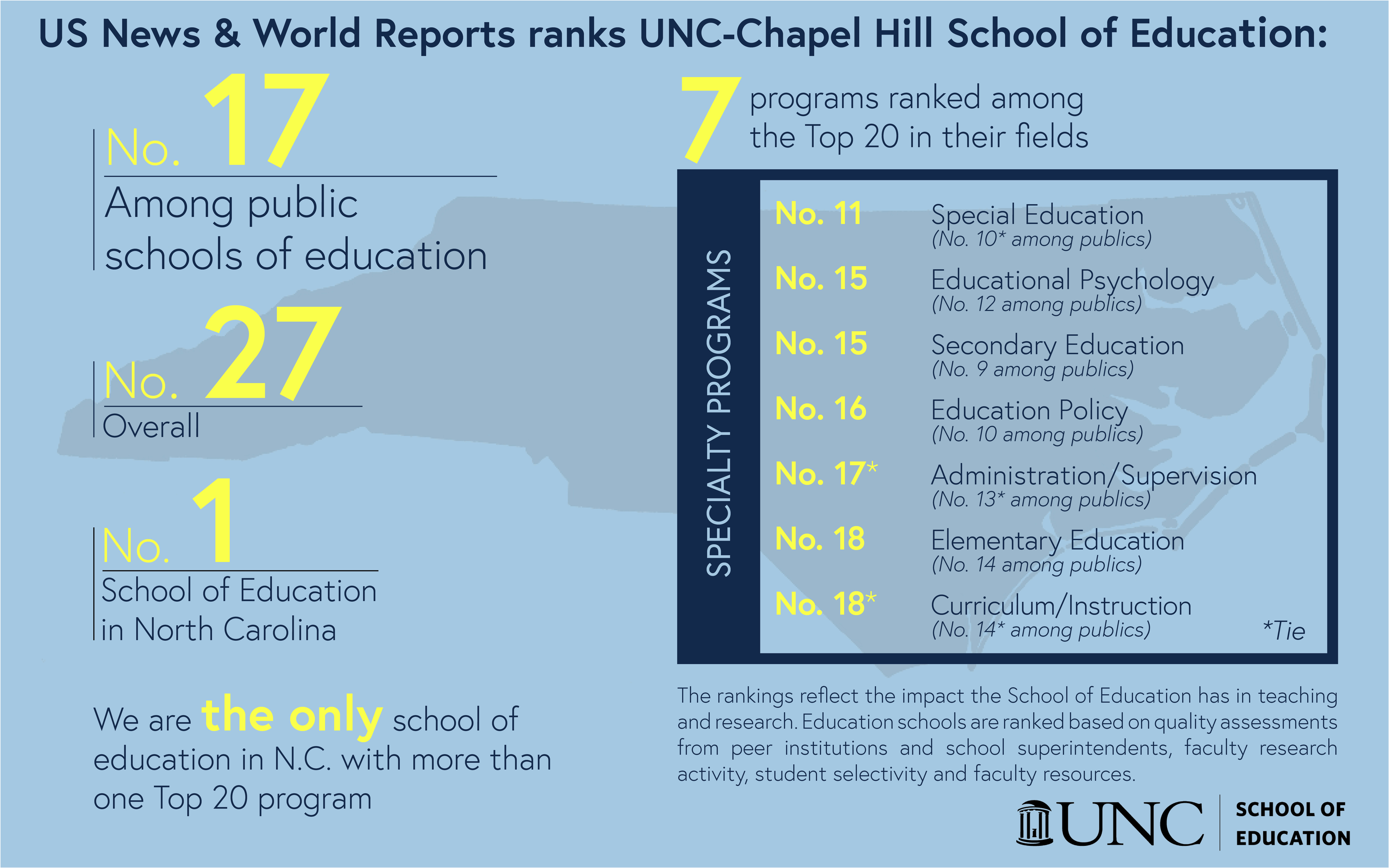 The School of Education rose to No. 27 in U.S. News & World Report's 2020 "Best Graduate Schools" rankings issued Tuesday, marking a rise of eight places in the last three years. Among schools of education at public universities, Carolina was ranked
No. 17.
Seven of the School's programs were ranked in the top 20 in their fields.
The School's overall ranking rose three places, up from No. 30 in last year's survey. It's the School's best rank since its No. 23 showing in the 2010 guide.
"This improvement in our ranking reflects the work of our faculty, staff and students who consistently pursue excellence in their work," said Fouad Abd-El-Khalick, dean of the School of Education. "We have also engaged in a program of strategic investments in areas that are intended to build on and extend important strengths. That includes an intensive hiring program in which we have added new, rising scholars to our already strong faculty. We've also made key investments in our research enterprise to accelerate our faculty's contributions to the field."
U.S. News & World Report rankings reflect the impact the School of Education has in teaching and research. The magazine ranks schools of education based on quality assessments from peer institutions and school superintendents, faculty research activity, student selectivity and faculty resources. Carolina's School of Education is ranked No. 1 in North Carolina.
The U.S. News rankings include five-point scale assessments conducted by peers at other schools of education and by school system superintendents. Carolina's peer assessment of 4.0 was the 15th highest among all schools across the nation, and the superintendents' assessment rating of 4.2 was the 13th highest.
Carolina, with seven programs within U.S. News's 10 education specialty program categories, was the only university in North Carolina that had more than one included in the program rankings.
"Our faculty work to build academic experiences that are directly relevant and deeply engaging for our students," Abd-El-Khalick said. "We provide programs that have been demonstrated to prepare our students for meaningful and impactful careers as leaders in their chosen fields. These rankings are a reflection of that work, and of the quality of the graduate students who choose to enroll in our programs."
The seven School of Education programs ranked among the best in their fields:
Special Education 11th; among publics, 10th
Educational Psychology 15th; among publics, 12th
Secondary Education 15th; among publics, 9th
Education Policy 16th; among publics, 10th
Administration/Supervision 17th (tie); among publics, 13th (tie)
Elementary Education 18th; among publics, 14th
Curriculum/Instruction 18th (tie); among publics, 14th (tie)
The specialty rankings are derived from surveys of education school deans who are asked to select up to ten top programs in each area. Schools in each specialty area are numerically ranked based on the number of nominations they received.
For the rankings of schools of education, U.S. News surveyed 392 schools that grant doctoral degrees in education, with 258 schools responding to the survey.
The US News & World Report rankings are available here: https://www.usnews.com/best-graduate-schools.