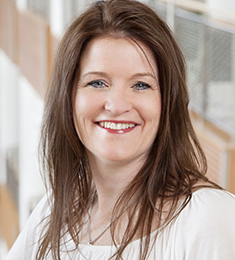 Dorothy Espelage, one of the nation's leading academic experts on school safety and student well-being issues, is joining the School of Education at the University of North Carolina at Chapel Hill.
Espelage will join the Carolina faculty on July 1 as the William C. Friday Distinguished Professor of Education. She comes to Chapel Hill from the University of Florida, where she is professor of psychology. She previously was at the University of Illinois, Urbana-Champaign, where she was University Edward William Gutgsell & Jane Marr Gutgsell Endowed Professor and College of Education Hardie Professor.
"I am thrilled that Dr. Espelage has agreed to join our faculty," said Fouad Abd-El-Khalick, dean of the School of Education. "Dr. Espelage is an extremely prolific researcher and an authority on some of the most important issues facing our society today. She will bring unparalleled expertise and add incredible bandwidth to our efforts to confront problems around bullying, harassment and violence in schools, and other difficult issues in the lives of K-12 students today."
Leading researcher on K-12 student well-being issues
Espelage's impact is reflected in the numerous awards she has received and leadership positions she has been asked to assume. She is the recipient of the American Psychological Association's Lifetime Achievement Award in Prevention Science and the 2016 APA Award for Distinguished Contributions to Research in Public Policy.
She was elected to the National Academy of Education in 2018, the highest honor for researchers in the educational sciences. She is also a fellow of the Association for Psychological Science, the American Psychological Association and the American Educational Research Association. Espelage also serves as vice president for science and technology for the American Psychological Association's Division 17 (Society of Counseling Psychology).
During her 22-year academic career, Espelage has written close to 200 peer-reviewed scholarly articles, edited six books and 73 chapters on bullying, sexual and gender-based harassment, dating violence, and gang violence. She served as an associate editor of the Journal of Counseling Psychology. She is one of the most-cited scholars worldwide in her areas of research.
Translating research into effective practices
In addition to conducting research, Espelage orients much of her work toward helping the public and policymakers understand academic research findings so that effective prevention and intervention programs can be created and supported. She regularly advises members of Congress and has led webinars for the Centers for Disease Control and Prevention, the National Institutes of Health and the National Institute of Justice. She authored a 2011 White House brief on bullying among LGBTQ youth.
Espelage has served as a consultant for the stopbullying.gov website, the Department of Health and Human Services' national anti-bullying campaign, and NIH's Pathways to Prevention initiative to address bullying and youth suicide. She regularly appears on television news and talk shows and is frequently sought after by national news media for her perspective on student well-being issues.
She actively mentors scholars from around the world on bullying and other student well-being issues and has advised hundreds of government officials from the U.S. and other nations.
Espelage is credited with introducing the notion that school-based bullying is best understood as a behavior that emerges over time and is maintained as a group phenomenon.
Espelage's work has been supported by more than $12 million in research funding. As one example of her work, a recently completed CDC-supported study included a randomly controlled trial of a social-emotional learning intervention program in 36 middle schools to reduce aggression. The National Institute of Justice is providing additional support to continue tracking these students to assess the effectiveness of the intervention in high school.
Espelage's hiring comes amid a recruitment campaign that has brought 16 new faculty members to the School of Education in the last two years.
"This is an exciting time at Carolina's School of Education," said Abd-El-Khalick. "We have managed to attract leading scholars in a variety of fields, adding to the strengths we already enjoyed. This is good news for the School, but also for the state of North Carolina and for people concerned about some of the most pressing issues in education. With our added strength we will be able to make new significant contributions to improving schools and the lives of students in our state and across the nation."