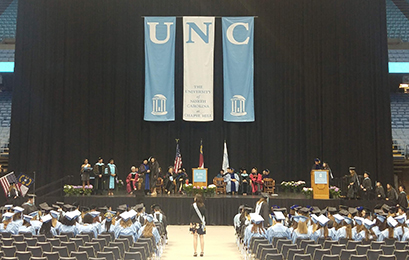 The School of Education celebrated Commencement weekend with a ceremony on Saturday, graduating 226 students.
The ceremony, held in the Dean E. Smith Center, featured an address by Zollie Stevenson, Jr., (Ph.D., '84) vice president for academic affairs and chief academic officer at Philander Smith College in Little Rock, Ark.
This was the second year in which students graduated from the School's Human Development and Family Studies undergraduate program, with 58 completing the program, which began in 2016. The program saw 28 graduates last year.
The Master of Arts in Teaching program graduated 48 students, more than doubling the number from last year.
"We are always thrilled to celebrate our graduates as they launch into careers or further academic endeavors," said Fouad Abd-El-Khalick, dean of the School of Education. "We're also thrilled that critical investments in our School are helping support increased enrollments in our academic programs."
In his address to graduates, Stevenson said they should expect to sometimes fumble their way through their careers as he has done. But it's important to have values that guide you, Stevenson said, listing the values he has followed: respect, scholarship, service, spirituality and integrity.
"The bottom line here, is that there is not a specific, immutable script for the next steps that you take career-wise after you receive your diplomas from Carolina this weekend," Stevenson said. "You might choose a road less travelled to achieve your professional goals. You might have to work around a barrier or two or some bumps in the road. But ultimately you will achieve success that is as meaningful to you as success will be for the person sitting next to you today."
Carolina's School of Education offers a wide range of undergraduate and graduate-level academic programs. Learn more at https://soe.unc.edu.