When Amy Castle was a junior at the University of North Carolina at Asheville, she participated in an outreach project for an ecology class that included teaching a lesson on endangered reptiles and amphibians to middle school students. She loved the experience.
So she got a job with Asheville City Schools and tutored seventh graders once a week her senior year. She loved that experience, too.
"It was at that time when I realized that being a school teacher would be a great career for me," she says.
But it was a little late in Castle's college career to change majors. She earned her bachelor's degree in biology and, upon graduation, accepted a lateral entry, or residency, teaching job as a seventh grade science teacher at the Durham School of the Arts.
Residency-licensed teachers have the content knowledge and are hired to fill a teaching position, but have not obtained a teaching licensure. In order to continue teaching, they must earn a teaching license within their first three years in the classroom.
Pathway to Practice is affordable, online and self-paced — all essential attributes of the program that are important for a full-time new teacher.
To earn her teaching licensure, Castle turned to Pathway to Practice NC. That is a 100% online, state-approved Educator Preparation Program offered by NC State University and the University of North Carolina at Chapel Hill specifically designed to help residency-licensed teachers like Castle clear their provisional licensure and earn a full teaching license.
"Pathway to Practice is affordable, online and self-paced — all essential attributes of the program that are important for a full-time new teacher," said Castle, who completed Pathway to Practice in the summer of 2019.
Not only can teachers complete the program online from anywhere, they also engage with faculty members from North Carolina's two co-flagship universities, which historically prepare some of the state's most effective educators based on statewide performance measures: NC State and UNC-Chapel Hill.
"The content is specifically designed for in-service teachers by subject area experts," said Alison Winzeler, Ph.D., program coordinator of Pathway to Practice. "These experts are faculty members from two of the strongest colleges of education in the nation."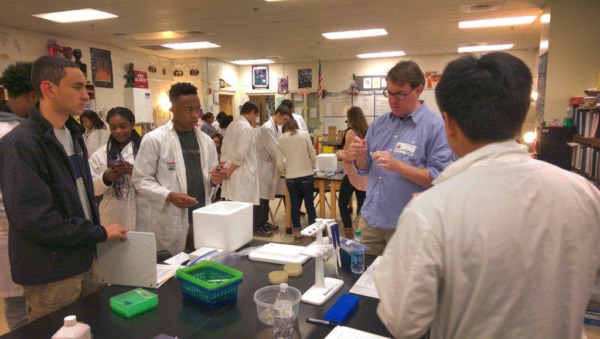 For Dane Fisher, Ph.D., a science teacher at Brunswick County Early College High School, Pathway to Practice was an ideal fit for clearing his high school teaching license. Fisher served as a biology professor at Pfeiffer University for more than 20 years before transitioning to high school, and was attracted to the program because of its convenience, practicality and relevance.
"Pathway to Practice provided a wonderful set of skills in pedagogy, classroom management, content application, differentiation and strategies for engaging students based upon their age, development and latest educational research," said Fisher, who completed Pathway to Practice in June 2019.
Fulfilling an educational need
Pathway to Practice NC helps North Carolina address its growing teacher shortage by providing a new avenue for residency-licensed or lateral entry teachers to gain licensure. North Carolina school districts rely heavily on residency-licensed teachers to fill vacancies. According to a 2015 report by the State Board of Education, North Carolina employs more than 4,300 residency-licensed teachers. However, residency-licensed teachers leave the profession at a rate 79% greater than other teachers.
To provide more effective teacher preparation for residency-licensed teachers, UNC-Chapel Hill's School of Education and NC State's College of Education established Pathway to Practice to provide residency-licensed teachers with the teaching skills and knowledge they need to be effective in the classroom.
The program launched in October 2017 with 15 residency-licensed teachers. In less than a year, Pathway to Practice had more than doubled its enrollment. Since it began, the program has seen 12 teachers complete the program and earn full teacher licensure, with another 86 residency-licensed teachers from across the state currently enrolled.
"Pathway to Practice supports and prepares emergency-licensed teachers by providing a flexible, research-driven and standards-based licensure program," Winzeler says. "We recognize that first-year teachers face enormous demands and stress. It is no small feat to also pursue a licensure program while teaching. The flexibility of Pathway to Practice, as well as the individualized feedback, allows them to develop as educators and be successful by achieving full licensure."
Pathway to Practice costs about $5,000, and is a self-paced, competency-based, online program that takes 12 to 18 months to complete. This enables teachers to use their own classrooms to learn and make progress on their own schedule.
"Nothing has prepared me or advanced my career like Pathway to Practice did," said Nick Musgrave, who completed the program in 2018 and is lead math teacher at Thomasville Middle School. "I had two full years [of teaching] under my belt when I began Pathway to Practice and that experience pales in comparison to what I learned. The program has absolutely changed the way I teach."
Making a bigger impact
When Pathway to Practice launched, it offered preparation in the content areas of mathematics, science, English Language Arts and social studies for teachers in grades 6-12.
In November 2019, the program expanded to offer teacher preparation programs in elementary education and special education thanks to a $200,000 grant from the State Employees' Credit Union (SECU) Foundation. The SECU Foundation grant also funds scholarships for 10 teachers who want to become fully licensed in elementary education and special education.
Scholarship priority is given to those teachers who teach in one of the state's Tier 1 communities, which are the 40 most economically distressed counties in North Carolina, according to the N.C. Department of Commerce.
Sixteen teachers make up the first cohort of elementary education and special education teachers to enroll in the new licensure areas. Counties represented are Durham, Edgecombe, Granville, Halifax, Harnett, New Hanover, Pender, Rutherford, Sampson and Wake.
Renee Kontometros, an Intensive Behavior Support (IBS) teacher at Roland Grise Middle School in New Hanover County, is currently enrolled in the new special education licensure area. She was attracted to the program because of the credibility of NC State and UNC-Chapel Hill, as well as the timeliness of acquiring a teaching license.
"I am so grateful to be part of a cohort in the Pathway to Practice program. It has been crucial in my transition as an IBS teacher," Kontometros said. "I am learning proven practices and applying them in my classroom. My facilitator, Chris Needham, is responsive, encouraging and extremely helpful as I navigate through the modules. Every detail of the program is meaningful and well thought-out.
"I feel that Pathway to Practice is more than an online program," she added. "There is a lot of individual support available. I am so blessed to be in this program and I would recommend it wholeheartedly."
Kontometros was accepted into several alternative licensure programs. But after several correspondences with Winzeler, it was evident to her that Pathway to Practice was a superior alternative licensure program, she said.
And for Castle, who like many other lateral-entry teachers, pursued teaching later in life, Pathway to Practice was the program she needed to provide her with countless strategies about how to become successful in the classroom.
"Not only did the program help me create engaging and interactive lessons, but it also taught me how to teach adolescents," she said. "I want to inspire young people to change the world and become lifelong learners. I believe when students become passionate about science and learning at a young age, they have the courage to reach their full potential in academia and life."