Principals can lead schools in which educational inequities are identified and addressed and students of color are academically successful.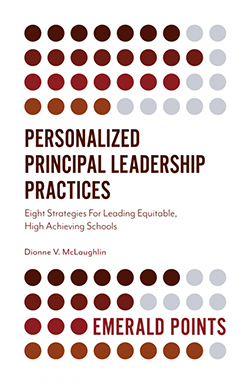 That's the central point of a new book by alumna Dionne McLaughlin ('11, Ed.D.), an assistant professor in the Master of School Administration program at North Carolina Central University.
McLaughlin's book, "Personalized Principal Leadership Practices: Eight Strategies for Leading Equitable, High Achieving Schools," outlines practices that principals can use to create school environments where students of color excel.
McLaughlin, a British-born Black Jamaican educator, has worked as a high school and elementary school principal, and as a director in a Latinx Human Service Agency and a K-12 director of a voluntary desegregation program in Boston and Durham. She earned her master's degree in education at the Harvard Graduate School of Education before obtaining her doctorate at Carolina. She is also the author of the book "Insights: How Expert Principals Make Difficult Decisions."
We can sometimes focus on what's not working and miss the success stories, especially if finding success stories means looking outside of our own districts or even our own state.
"After writing the last chapter of my first book that focused on decisions that expert principals made that increased the performance of African American and Latinx students, I realized that it was important to dedicate my next book to exploring the practices that principals utilized to increase academic achievement," McLaughlin said.
McLaughlin's new book is drawn from the work of 18 principals of nationally or regionally recognized non-magnet public schools where 80% or more of Black and Latinx students are proficient on math and English standardized assessments. The book describes eight strategies used by principals to improve the achievement of students of color.
The book describes equity-focused walkthroughs, equity audits, a system for tracking and dealing with students' missed assignments, a protocol for student-led equity panel discussions and strategies for building trusting relationships with families of color.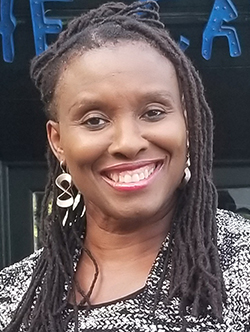 Creating high-achieving schools
A summary of the eight strategies:
1. Personalize the data. Remember that each data point is represented by a student name and a face. Use "ORID data chats," "Brother 2 Brother Data Charts" and seek to treat students as if they were your own children.
2. Generate principal-directed student equity learning goals and promote equitable learning environments. Conduct equity audits and develop equity-focused goals that are not delegated but remain the purview of the principal.

3. Get the right teachers in the classroom and monitor the implementation of culturally proficient instruction. The right teachers lead discussions about race and equity, are dedicated to student success, call on everyone, are passionate, and maintain structured classrooms. Adopt best practices for hiring more Black and Latinx teachers. Conduct equity-focused walkthrough, using standardized measurement instruments.
4. Increase teachers' cultural proficiency. Introduce the "Cultural Proficiency Continuum," "Equity Downloads" and equity execution as strategies for operationalizing equity work in schools.
5. Infuse highly structured interventions. Develop and/or adopt comprehensive intervention systems for monitoring individual student performance.
6. Utilize student voice data as an integral part of school improvement. Obtain student voice data through "equity listening tours," student surveys, student equity panel discussions and a high school course on Race, Gender and Human Behavior.
7. Create academic affinity groups and scholar support programs for African American and Latinx students. Examples include "Bridge to Calculus" and "ChemCafé."
8. Partner with Parents: Best Practices for Building Strong Parent Collaborations. Explore approaches such as inviting Black parents to be part of "learning walk teams." Be willing to meet parents wherever and whenever they are available. Create parent needs assessments. Tap into parent expertise and build trust, connection and understanding. Partner with local businesses, restaurants, car dealerships, or supermarkets to provide financial and in-kind donations for academic awards, student incentives, teacher appreciation and parent events.
Finding success stories
Following is a Q&A with McLaughlin.
What are some of the greatest impediments in the way of principals doing the sort of work you describe in your book?
Time. Resources. There is rarely enough of either one. Generally being unaware of the success stories. We can sometimes focus on what's not working and miss the success stories, especially if finding success stories means looking outside of our own districts or even our own state.

From among your eight suggested practices, which are most useful to being implemented during this period of remote learning?
What can be challenging is creating academic affinity groups and scholar support programs virtually and there may not be a need for school-wide interventions while students are studying remotely. But principals still need to find ways to support marginalized students. Principals can personalize data and focus on educating students as if they are our own children. Principals can adopt equity goals that are their own purview and not delegated to someone else. Principals can get the right teachers in the classroom and help teachers to become culturally proficient. Students want to know that their voices count and they want to be included in the school improvement process. Principals can utilize student voice data so that the adults aren't making all of the decisions. Principals can also adopt the practices in the book to improve partnerships with parents of color.
During this time of remote learning, which of the eight practices are most important for school leaders to pursue?
As principals consider how they can improve the academic performance of students of color, they have to start somewhere. They can't adopt all eight strategies at once, but they can adopt two or three this year, then add more the following year.