Diana Lys, assistant dean for educator preparation and accreditation, is one of the co-editors of a new book that looks at ways data may be used to improve the preparation of teachers.
The book — "Using Data to Improve Teacher Education: Moving Evidence into Action" — was published this month by Teachers College Press. It contains a foreword by Bill McDiarmid, former dean of the School of Education.
The book offers examples of how data can be used by faculty, staff, and program leaders to improve their work. The book describes practices used by teacher education programs around the country that have been successful using data to improve their programs.
The book is the first for which Lys has served as an editor or author.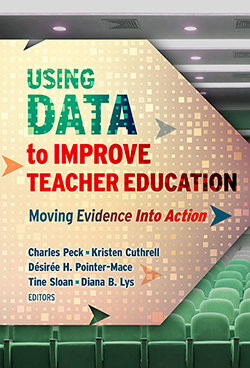 At the School of Education, Lys conducts research linking teacher candidate performance data to graduate outcomes in the field, including student achievement scores and principal evaluations. Before joining Carolina, Lys served for five years as director of assessment and accreditation at the College of Education at East Carolina University. In that role, she played a central part in implementing the edTPA teacher preparation program assessment and support system.
Her research has been published in the Journal of Teacher Education, Teaching and Teacher Education and in multiple book chapters
She began her career in education as middle school teacher in rural North Carolina, working with migrant youth and linguistically diverse students.
More details about the book may be found here: https://www.tcpress.com/using-data-to-improve-teacher-education-9780807764701