Nikki G. Lobczowski ('19 Ph.D.), who is working as a postdoctoral associate at the University of Pittsburgh's Learning, Research, and Development Center, has won the 2021 Paul R. Pintrich Outstanding Dissertation Award from Division 15 (Educational Psychology) of the American Psychological Association.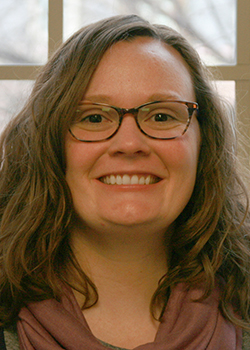 Lobczowski, who earned her doctorate in the Learning Sciences and Psychological Studies strand of the Ph.D. program, conducted research for her dissertation examining group dynamics and the regulation of emotions among college students working in a collaborative setting.
Her dissertation, entitled "Building from the Inside Out: The Formation and Regulation of Emotions in Collaborative Learning," provides suggestions for how researchers and teachers can promote socioemotional regulation among students working together in academic settings. The dissertation includes three articles, including a literature review, empirical paper on the socioemotional formation and regulation with graduate pharmacy students, and a theoretical paper that introduces a new model for the formation and regulation of emotions in collaborative learning (FRECL), which was published in Educational Psychologist.
Jeffrey Greene, the McMichael Distinguished Professor at the School of Education, was Lobczowski's advisor.
Lobczowski, who earned both an M.Ed. in curriculum and instruction and a B.S. in mathematics from Virginia Tech, served as a postdoctoral fellow at the Human-Computer Interaction Institute at Carnegie Mellon University after earning her Ph.D. at Carolina. She is an author of 15 articles in refereed journals, including as lead author on four of them.
She taught middle school and high school mathematics for eight years before pursuing her doctorate.