Luz Robinson, a second-year doctoral student in the School Psychology program, has won a Ford Foundation Predoctoral Fellowship, a highly selective award that provides three years of support during pursuit of a doctorate.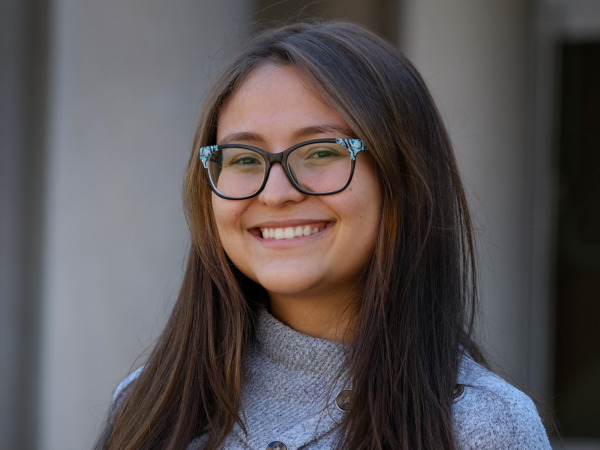 The award from the National Academies of Sciences, Engineering, and Medicine typically goes to only about 5% of applicants.
The award will be used to support a project in which Robinson is creating a game intended to help elementary school students — especially Hispanic students — overcome mathematics anxiety and develop greater confidence in using mathematics. Robinson's project includes a study of the effectiveness of the intervention, research that will contribute to her dissertation.
The work is important because Hispanic students are underrepresented in science, technology, engineering, and mathematics fields and in post-secondary STEM academic programs, Robinson said.
Luz is very deserving of this recognition. She has worked endless hours to carve out an independent research agenda that is not only innovative, but has the potential to impact the academic trajectories of many Hispanic youth.
"Latinx students are the fastest-growing student demographic, but they are significantly underrepresented in the STEM workforce and have among the highest rates of those who do not graduate from high school," Robinson said. "Mathematics is a core subject for STEM involvement, but for low-income and marginalized students, mathematics education is also a form of social justice because it can provide them with critical problem-solving skills such as financial literacy to liberate themselves and their families from the shackles of poverty."
The game Robinson is developing — called "I AM (Apply Math) in my world" — will include content culturally relevant for Hispanic students and present real-world problems to be solved through math. The game — which will be developed in English and Spanish versions — is intended to give students practice with numbers and basic mathematical calculations, and social-emotional learning practices aimed at reducing math anxiety.
Helping develop the game is a team that includes undergraduate students from the School of Education's Human Development and Family Studies program and from UNC-Chapel Hill's Department of Computer Science.
Already an experienced researcher
Robinson joined the UNC School of Education after graduating from the University of Florida in 2019 with a Bachelor of Science in psychology, a Bachelor of Arts in international studies with a concentration in Latin America and the Caribbean, and minors in Portuguese and education.
In Florida, Robinson worked with Dorothy Espelage, who is now at the UNC School of Education as the William C. Friday Distinguished Professor of Education. Robinson has worked in Espelage's Research Against Violence in Education (RAVE) lab, first as an undergraduate for two years, then as research coordinator, and now as a graduate research assistant. Robinson's work with the RAVE lab has been focused on developing, implementing, and evaluating youth violence prevention initiatives for K-12 students.
Through her work with the RAVE lab, Robinson has co-authored 15 peer-reviewed publications, with an additional ten under review, six book chapters and 12 conference submissions.
"Luz is very deserving of this recognition," Espelage said. "She has worked endless hours to carve out an independent research agenda that is not only innovative, but has the potential to impact the academic trajectories of many Hispanic youth.
"While she clearly is a very productive scholar, this fellowship will only strengthen her potential to secure an academic position in a research university, but more importantly she will be developing tools that will have significant, broad impact on youth and families," Espelage said.
Strengths-based approach to helping marginalized youth
Robinson grew up in Miami in a multiethnic home — her mother is from Colombia, her father from the United States, and her sisters from Venezuela.
Serving in clinical internships, she has worked with Hispanic infants, toddlers, and parents administering a neurodevelopmental assessment in Spanish designed to capture early signs of autism and to make recommendations for early intervention.
She has also worked as an intern at RTI International, a research institute located in North Carolina's Research Triangle Park, in a National Institutes of Health-funded study of congenital Zika. In that project, Robinson examined early developmental outcomes data and disseminated findings in family-friendly formats to be shared with Brazilian families in Portuguese.
Robinson also works as a mental health therapist at El Futuro, a Durham-based out-patient clinic, providing culturally responsive care and delivering evidence-based interventions in Spanish and English to Hispanic children and families.
Robinson said she plans to pursue a career aimed at helping members of marginalized communities, using a strengths-based lens that focuses beyond risk factors.
"As a multiracial Latina researcher in psychology, I am underrepresented in my field," she said. "Upon graduation, I will pursue a tenure-track assistant professor position at a research-intensive university where I will teach and lead a diverse research team that develops, implements, and evaluates school-based initiatives to support historically marginalized students and families.
"I also aspire to collaborate with international scholars and develop interventions that are relevant for children and families who are multicultural and multilingual," she said.