Samantha Shaw has discovered that teaching is about giving.
Shaw, the UNC School of Education's Student Teacher of the Year, was surprised by that realization while student teaching high school English this past school year.
"I'm an introvert, so, for me, teaching feels like giving part of myself away every day," Shaw said. "But what I didn't know until I was in the classroom is that the kids will give themselves to you, too. If you are open and believe in them, find points of connection and interest, they will be vulnerable and take healthy risks in the classroom.
"It's all about the classroom culture, and I love walking into a space that feels both safe and challenging every single day," she added.
Shaw will walk into that space — and work to make points of connection with students — when in August she joins the staff at Carrboro High School, the same school where she did her student teaching.
Shaw grew up near Chapel Hill and majored in English and comparative literature at Carolina before joining the School of Education's Master of Arts in Teaching program. As the School's Student Teacher of the Year, she goes on to compete for statewide Student Teacher of the Year, an honor that will be announced in the fall.
Opening new worlds
Shaw had early exposure to the lives of educators, being the daughter of a staff member in the school that Shaw attended fourth through 12th grades.
"It was nice because I got to know my teachers, delivering the morning attendance folder every day with my mom, before I was ever in their class," Shaw said.
Shaw said she had aspired to be a journalist or editor but discovered joy in teaching while she was an undergraduate student. During her senior year in high school, Shaw attended a summer journalism conference in Washington, D.C., then was recruited to work at the conference as an intern the summer following her first year at Carolina. In subsequent summers she worked at the conference as a junior faculty advisor. In that role, she walked students through newsroom simulations and talked with them about their aspirations.
Shaw said she drew inspiration from teachers "who made me see the world differently, but most importantly, they made me see myself differently. If they believed in me, why shouldn't I? My goal is to connect with my students like they did with me."
"At this conference, I found out that words really do have the power to change us," said Shaw, who continues to aspire to be an author. "I saw it change my students, and it certainly changed me. Now, all I want to do is find the right words for my students, the words that open up a whole new world of possibility and promise."
Anthony Swaringen is one of the Carrboro High School English teachers who worked with Shaw during her student teaching.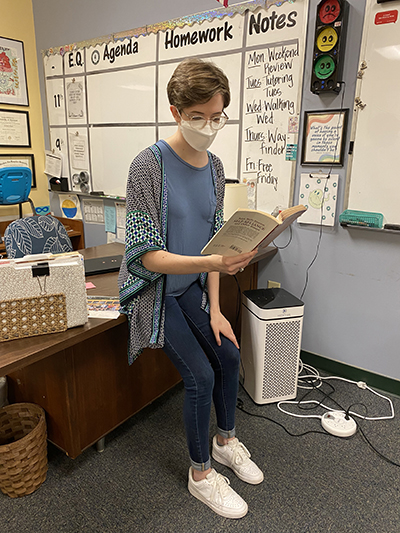 "I was nervous about mentoring a student teacher this year because I felt as if I were getting my own bearings as an in-person teacher again," Swaringen said in a letter nominating Shaw for the award. "However, within a couple of weeks of getting to know Ms. Shaw, I realized that working with her was going to be a great experience for both of us."
Swaringen said Shaw did a lot of independent reading and research on top of her regular coursework to understand the grading system used by English teachers at Carrboro High in which students receive narrative feedback on assignments rather than points, then are asked to propose their own grades.
"She was not content to merely adopt the system," Swaringen said. "She wanted to understand it and make it her own as she moved from observing to full-time teacher."
He said Shaw made the grading system a topic that she explored in her final course of the MAT program.
"I am thrilled that she is positioning herself to be a leader in the paradigm shift around assessment that is occurring in the English Language Arts community," Swaringen said.
He added: "Ms. Shaw is so obviously devoted to being an outstanding teacher of English. I have seen it in her interactions with students and heard it in every question she has asked me. I have worked with several student teachers over the years and have mentored over 50 beginning teachers in my career, and I can confidently say that she is among the most promising beginning teachers I have had the opportunity to work with."
Making connections
Jocelyn Glazier is an associate professor at the UNC School of Education who taught Shaw in two MAT courses. In a letter nominating Shaw for the recognition, Glazier said Shaw's reflection on her own teaching was much like that of a seasoned educator.
"Sam is able to step back and consider her students' experience in the class while simultaneously considering her role in fostering or inhibiting student learning," Glazier wrote. "And then Sam acts in response to those critical reflections."
Glazier added: "In a final paper for my class, Sam wrote: 'I aim to craft an engaging and enriching environment by investing in the creation of a safe space where students feel comfortable being wrong, in-progress, and taking risks to become the best versions of themselves.'
"Sam was able to do this in her student teaching classroom," Glazier wrote. "My spirit is buoyed by the knowledge that Sam will continue to do this for years to come."
Shaw will teach ninth grade English and either 10th grade English or lead the yearbook class when the 2022-23 school year begins at Carrboro High.
"I feel so fortunate to have found a home there," Shaw said. "The administration has their priorities in the same place I do, the fellow teachers are brilliant and happy to collaborate, and the staff is welcoming. Not to mention the students, who are extremely inquisitive."
Shaw said she drew inspiration from teachers she had in high school "who made me see the world differently, but most importantly, they made me see myself differently. If they believed in me, why shouldn't I?
"My goal is to connect with my students like they did with me."