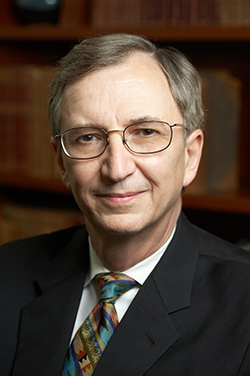 Anthony S. Bryk, a leader in improvement science who served as the ninth president of the Carnegie Foundation for the Advancement of Teaching, will deliver the talk "Improving Human Systems" Thursday, Nov. 10, at 5:15 p.m. in the Sonja Haynes Stone Center for Black Culture and History auditorium on the campus of the University of North Carolina at Chapel Hill.
The event serves as the official launch of Carolina's Interprofessional Graduate Certificate in Improvement Science and Implementation, a campus-wide effort to equip graduate students and professionals with knowledge and tools needed to enact organizational change. A reception will follow Bryk's remarks.
"Tony's work to improve education is second to none," said Lora Cohen-Vogel, Ph.D., Frank Daniels Jr. Professor in the UNC School of Education and the certificate program's director. "It's a thrill to welcome him to our campus so this community can see the transformational power of this work and its value for system improvement in healthcare, social work, housing and family services, and education."
While president of the Carnegie Foundation for the Advancement of Teaching from 2008 to 2020, Bryk led efforts to transform educational research and development, more closely joining researchers and practitioners to improve teaching and learning. Prior, he held the Spencer Chair in Organizational Studies in the School of Education and the Graduate School of Business at Stanford University and the Marshall Field IV Professor of Urban Education at the University of Chicago, where he founded the Consortium on Chicago School Research, a federation of research groups that have produced a range of studies to advance and assess urban school reform.
Bryk is a member of the National Academy of Education and was appointed by President Obama to the National Board for Education Sciences in 2010. In 2011, he was elected as a member of the American Academy of Arts and Sciences.
His 1993 book, "Catholic Schools and the Common Good," is a classic in the sociology of education. His deep interest in bringing scholarship to bear on improving schooling is reflected in his later works, "Trust in Schools" (2002) and "Organizing Schools for Improvement: Lessons from Chicago" (2010).
In his most recent books, "Learning to Improve" (2015) and "Improvement in Action" (2020), Bryk argues improvement science combined with the power of networks offers the field a new approach to reach ever-increasing educational aspirations. In his soon-to-be-released follow-up, he tells the story of Chicago Public Schools, once described as the worst-performing school system in America. Today, says Bryk, it's the best at improving.
Developed by an interdisciplinary group of faculty and staff on the UNC-Chapel Hill campus led by Cohen-Vogel, the Interprofessional Graduate Certificate in Improvement Science and Implementation launched in fall 2022. The certificate program will equip degree-seeking graduate students and non-degree-seeking professionals with evidence-based practices and frameworks to help them build and lead organizations that learn. With endorsements and advisory board leadership from eight professional schools across campus, it offers a new paradigm for preparation in the professions, one that promises to be a powerful driver of organizational improvement for the nation's schools, hospitals, social service agencies, community clinics, and nonprofits.
Bryk's talk is co-sponsored by the UNC School of Education, UNC School of Social Work, UNC School of Nursing, UNC Frank Porter Graham Childhood Development Institute, and ncIMPACT.
For parking information, visit maps.unc.edu.