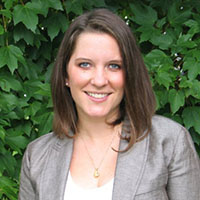 School of Education graduate students Ashley Boyd and Amy Senta won an award at the annual conference of the American Educational Research Association for a paper they wrote together.
Boyd and Senta won the Graduate Student Research Excellence Award from the AERA's Media, Culture and Curriculum special interest group. The AERA conference was held earlier this month in Philadelphia.
The paper is entitled "Toward Structural Attribution: Using Detournement with Preservice Teachers to Challege the Teacher Savior Myth."
The paper describes the use of dètournement, a term that describes the use of short films consisting of juxtaposed media to challenge myths in popular educational discourse. Boyd and Senta, both Ph.D. students in the culture, curriculum and change specialization, have worked with Associate Professor James Trier, who teaches about popular culture and representations of education.
In their study, Boyd and Senta describe pairing clips from contrasting documentaries and how that affected students' perspectives in a variety of areas, including how they view teachers.