When William Jackson graduated from Norfolk State University in 2006 with a degree in chemistry, he was alone in one way.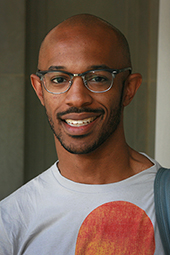 "Looking around I noticed there weren't a lot of other men of color or African American males that actually graduated with me that day," Jackson said.
In fact, he was the only African American man to graduate from the chemistry program that year.
Since then, Jackson has worked to fix that problem.
Scrapping his intentions to become a professor, Jackson decided to teach in the K-12 level to reach out to younger African American men. He especially hoped to inspire more African American students to enter the sciences.
He taught in Atlanta for three years and Hampton, Va., for one year before entering the doctoral program at UNC-Chapel Hill's School of Education. Here he has continued his work to help young African American boys get the most out of their education.
Jackson's work has been recognized by the nonprofit group Echoing Green, which has named Jackson a 2014 Black Male Achievement Fellow for his work developing a program he calls Village of Wisdom, which is aimed at helping African American youth succeed in school. The award comes with a $70,000 grant to help Jackson launch his nonprofit, which is based in Durham.
VOW looks to the future
Village of Wisdom, or VOW, will provide parents of African American boys resources to help to develop messages that have the potential to propel their sons to success. The curriculum for parents includes topics on racial identity and confidence development, as well as discussing how to help their child navigate racial biases. VOW will provide parents the time and space to develop messages to share with their children, hopefully making their sons more resilient and adaptive.
Jackson, who is pursuing his doctorate in educational psychology, measurement and evaluation, says African American boys in particular regularly face discrimination in school, which has been shown to have negative outcomes on mental health and academic achievement. For example, a recent national study (described here) found that eight of ten children who were suspended from preschool were black boys. A study of North Carolina schools revealed that black students were up to three times as likely to be suspended for the same infraction as their white counterparts (described here).
One of the major goals of the VOW organization is to prepare African American boys to deal with and navigate a system that has been historically biased against them, Jackson said.
"I don't think kids should have to prepare for racial bias," Jackson said. "But if we know that kids are going to experience this, then we need to prepare them for it."
Empowering African American boys through conversation
Jackson said empowering parents to have these conversations about racial identity with their children builds self-esteem and helps them become more resilient to the negative effects of racial biases. This alone can have significant improvements on a child's overall academic performance.
Growing up in the Atlanta suburbs, Jackson was fortunate to have parents who had conversations with him about topics such as self-worth. This made him realize how important parental involvement can be in a child's educational experience. Seeing his own success and that of his friends who had similar experiences growing up became a big part of how his idea for VOW came about.
"For most of us our parents were really important in making us believe in ourselves," he said, "My parents made sure that I knew regardless of what your race is, regardless of who other people say you are, you can achieve whatever it is that you want to achieve."
While at UNC, Jackson was commissioned by the consulting firm Frontline Solutions to design learning environments for both school-age and professional audiences. He has also presented at several national and regional conferences on the topics of parent intervention programs and self-regulated learning. He is a former Education Pioneers fellow and a recipient of UNC's Doctoral Merit Fellowship.
After he completes his doctorate, Jackson hopes to continue running Village of Wisdom, and has plans for growing the program. He hopes to be able to one day reach more parents and children, beyond the Durham area.