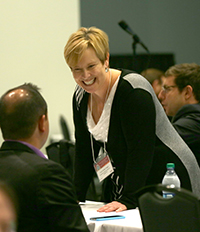 Lora Cohen-Vogel, the Robena and Walter E. Hussman, Jr. Distinguished Professor of Policy and Education Reform, is featured in a PBS documentary that explores the use of improvement science for closing the achievement gap in the Detroit Public Schools.
In the half-hour documentary, "Strength in Numbers: Closing Achievement Gaps through Collaboration," Cohen-Vogel describes the key features of improvement science or what is sometimes called continuous improvement research. Cohen-Vogel is an improvement specialist who has used the principles of continuous quality improvement to scale up measures to boost performance of schools.
In the documentary, Cohen-Vogel describes how continuous improvement:
focuses the work on critical problems of practice educators face every day,
involves the use of rapid tests of change called Plan-Do-Study-Act cycles, and
relies on shoulder-to-shoulder partnerships between researchers and educators in "networked improvement communities," or NICs.
Cohen-Vogel was co-principal investigator of the five-year, $13.5 million National Center for Research and Development on Scaling up Effective Schools, a partnership that worked with two large school districts to improve school performance. Through her work with the Center, Cohen-Vogel developed expertise in continuous improvement research. Today, she writes and speaks widely on the topic.
The PBS documentary follows principal Nancy Lubeski, who two years ago, received news from the state of Michigan that her school had been designated as a high achievement gap school, which meant that it had one of the largest gaps between its top and bottom 30 percent of students.
To help her students who were struggling, Lubeski got involved with a networked improvement community, which gave her support to make changes in her school. The documentary shows how Lubeski worked with other principals, school district representatives, Michigan Department of Education personnel, and researchers to close the large achievement gaps in their schools and districts.
The documentary is viewable online here.