The UNC School of Education jumped to No. 24 — of the approximately 1,600 education programs in the U.S. — in the latest U.S. News & World Report rankings. The School rose three spots to No. 14 among national public schools of education and remained the No. 1 school of education in North Carolina.
The School's No. 24 ranking marks an 11-place rise during the past four years.
"This is an incredible accomplishment for the School of Education," said Dean Fouad Abd-El-Khalick. "The credit goes to many people, but especially our faculty, staff, students, and alumni. We could not be more proud that their work is recognized in this way."
While reaching the Top 25 is a validation of the School's prominence, Abd-El-Khalick was quick to note that rankings are not the sole focus.
"The rankings reflect our School's mindset of continuous improvement on behalf of all learners and educators," he said. "Guided by our strategic planning, we made targeted faculty hires and launched innovative programs to serve the educational needs of North Carolina and beyond. This ranking is wonderful, but there is more work to be done, and we are committed to doing it."
During the past three years, the School has hired 22 new faculty members, ranging from promising young scholars to preeminent researchers in their field, bolstering an already extraordinary faculty and programs in education policy, leadership, human development and family studies, learning sciences, and educator preparation, among others.
In the past fiscal year under the leadership of Jill Hamm, associate dean for research and faculty development, the School also reported its highest-ever externally funded research expenditures — $13.8 million — an increase of 240% since 2016. With funding sources that include the National Institutes of Health, the National Science Foundation, the U.S. Department of Education, and others, the School's faculty members pursue high-impact research with implications for learners across nearly every facet of education.
"Our faculty members conduct research that matters," Hamm said. "They're taking on persistent problems in education, and applying new ways of thinking and expertise. And our funders are seeing immense value in the work coming out of their investments."
The rankings also reflect the School's esteem among the educational professionals who hire the School's graduates. On a five-point scale, those professionals rated Carolina at 4.2, the 13th highest among all schools and colleges of education. Faculty members continually prepare the state's most effective teachers and administrators.
"The way superintendents and principals assess the School really speaks to the quality of our graduates," said Diana Lys, assistant dean for educator preparation and accreditation. "Our students, at every level, are equipped with the knowledge, skills, and evidence-based practices to provide every child with the opportunity to reach their maximum potential, particularly students in high-needs communities."
In addition to the No. 24 overall ranking, six of the School's programs were ranked among the best in the nation, highlighting expertise in the following specialty fields:
Special Education — No. 11 (No. 10 among publics)
Education Policy — No. 18 (No. 11 among publics)
Educational Administration/Supervision — No. 18 (No. 13 among publics)
Educational Psychology — No. 18 (No. 15 among publics)
Elementary Education — No. 20 (No.17 among publics)
Curriculum and Instruction — No. 21 (No. 18 among publics)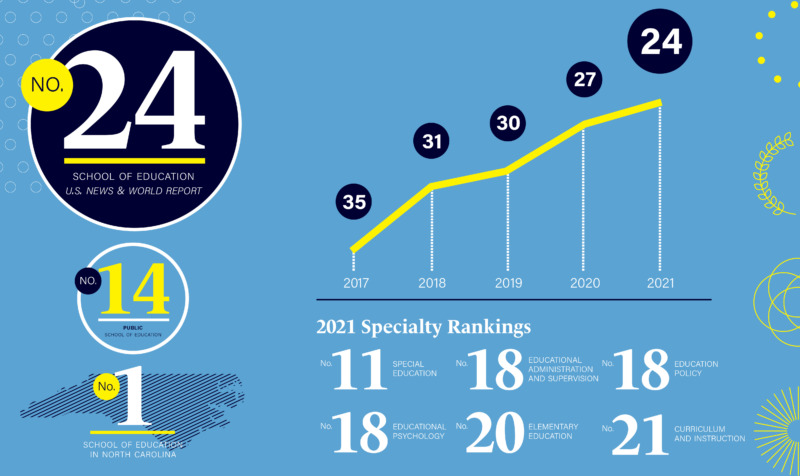 U.S. News & World Report rankings are intended to reflect the impact schools of education have in teaching and research. The magazine ranks schools of education based on quality assessments from peer institutions and school superintendents, faculty research activity, student selectivity, and faculty resources.
For the rankings of schools of education, U.S. News & World Report surveyed 393 schools that grant doctoral degrees in education, with 255 schools responding to the survey.
The full U.S. News & World Report rankings are available at usnews.com.