Edge: Carolina Education Review
Welcome to
Edge: Carolina Education Review,
a publication that showcases some of the research conducted by faculty at the School of Education at the University of North Carolina at Chapel Hill.
We are a research-intensive organization focused on achieving equity in educational access and outcomes for all learners in a diverse and just society. We pursue innovative, research-based solutions to the most pressing problems of educational theory, practice, programs, and policy.
Edge
highlights our faculty members' leading-edge work and the ways in which their research is helping transform teaching, learning, and educational policy, as well as the preparation and professional growth of educators and leaders in our schools.
To be added to the postal or email list for Edge: Carolina Education Review, send an email to michael_hobbs@unc.edu.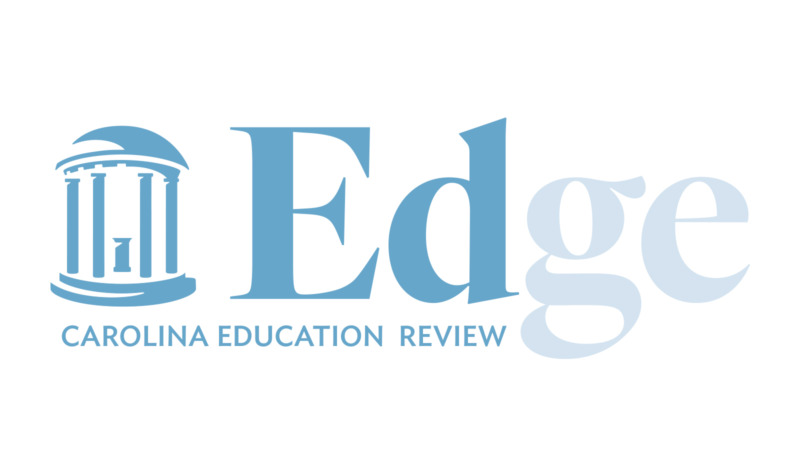 Volume 2, Issue 1
Individual Stories
COVER STORY: How can we make schools safer?
Researcher: Dorothy Espelage
Dorothy Espelage, the William C. Friday Distinguished Professor of Education at the School of Education at UNC-Chapel Hill, has led a 25-year research agenda that has illuminated issues around youth violence and has led to interventions, policies, and laws aimed at helping protect students and making schools safer. In this Q&A, Espelage talks about some of the key things she has discovered, and where her new work is leading.
Charting ways to make science teaching more inclusive
Researcher: Eileen Parsons
Eileen Carlton Parsons, who studies the influences of socio-cultural factors, specifically race and culture, on learning in STEM subjects, served on a National Academies of Science, Engineering and Medicine expert panel that examined ways to improve teaching and learning in science and engineering. In this Q&A, Parsons talks about the report's focus on recognizing and bridging inequities that have shut many students out of high-quality science instruction.
Helping schools support students struggling with suicidal thoughts and behaviors
Researcher: Marisa Marraccini
Marisa Marraccini has identified that few high schools have formal protocols for reintegrating students into school environments after they've been psychiatrically hospitalized. She is leading new research to identify the components of reintegration protocols that would be effective in helping adolescents in their return to school after psychiatric hospitalization.
Can teacher bonuses help close the achievement gap?
Researcher: Matthew Springer
Research by Matthew Springer and colleagues has identified that paying highly effective teachers salary incentives — when the incentive programs are carefully designed and implemented — can help reduce teacher turnover, leading to higher student achievement. New research is pointing to factors that can make salary incentive programs more effective.
Volume 1, Issue 2
Individual Stories
Charting a science of improvement in education
Researcher: Lora Cohen-Vogel
Lora Cohen-Vogel, our Frank A. Daniels Professor of Public Policy and Education, is a leader in a movement to bring the principles of improvement science to educational settings. Lora developed an expertise in continuous quality improvement through her work as co-principal investigator with the five-year, $13.5 million National Center for Research and Development on Scaling Up Effective Schools. The project has generated a considerable amount of research describing effective practices to incorporate and expand improvement efforts in schools.
Invigorating methods of measurement and building better theory
Researcher: Gregory Cizek
Gregory Cizek, the Guy B. Phillips Distinguished Professor of Educational Measurement and Evaluation, is a nationally recognized authority in his field. One of his special interests is validity theory. Cizek works at questions involving whether assessments accurately measure student understanding, and whether those test results are used appropriately. Can tests that measure student performance be used to assess teachers? That's among the questions Cizek's research explores.
Helping students with learning disabilities tackle the tough words
Researcher: Jennifer Diliberto
Informed by her research and her work with children with learning disabilities, Jennifer Diliberto, clinical associate professor of special education, has developed a curriculum that has been shown to help teach students with dyslexia and other disabilities to read. Her curriculum, "Taking on Tough Words," has been adopted by school districts in a dozen states. It relies on "syllabication," which Jennifer's work has demonstrated helps struggling readers.
Autoethnography: Understanding the bias of the brain
Researcher: Sherick Hughes
Professor Sherick Hughes, in the work of preparing educators and educational researchers, asks us to look inside ourselves. To be effective in educational settings and in our communities, it's important to wrestle with questions about our inherent biases and the biases embedded in our culture. Through autoethnography, Hughes shows how that's done by thinking and writing about his own experiences and how they have shaped his understandings.
Study questions use of free and reduced-price lunch data
A Minute with … Thad Domina
Thad Domina, associate professor of educational policy and sociology, is raising some big questions with a recent study. He and colleagues took a look at data from the National School Lunch Program, asking a basic question: Is participation in the lunch program a good proxy for socio-economic status? It turns out they may not be … which has big ramifications for educational researchers and administrators of many educational programs.
Volume 1, Issue 1
Individual Stories
Seeking a way forward to improve childhood literacy
Researcher: Lynne Vernon-Feagans
Lynne Vernon-Feagans has worked since 2004 developing a powerful program that helps teachers better instruct struggling readers. By using webcams, the "Targeted Reading Intervention" enables on-campus coaches to watch as teachers in high-need rural schools work one-on-one with students — and then provide on-the-spot feedback. In our cover article, Vernon-Feagans and Dean Fouad Abd-El-Khalick talk about some of the challenges in teaching reading with Susan Gates of the analytics firm SAS. Gates was a leader in the production of a Business Roundtable report "Why Reading Matters and What To Do About It."
Harnessing interactive visualizations to improve K-12 science instruction
Researcher: Kelly Ryoo
Kihyun "Kelly" Ryoo is conducting leading research on new ways to teach science. Building on her doctoral work at Stanford, she has developed new tools that use visualizations and interactive animations to teach science concepts to middle school students — especially English language learners. It's promising, impactful work that has attracted support from the National Science Foundation, the National Academy of Education, and the Spencer Foundation.
Cultivating creativity in classroom learning
Researcher: R. Keith Sawyer
Keith Sawyer is a nationally recognized leading researcher on creativity and the teaching of creativity. Yes, he says, creativity can be taught! He describes some of his findings and describes how classroom instruction needs to change if we want to nurture creative thinkers.
Building new paths to critical thinking
Researcher: Jeffrey A. Greene
Jeffrey Greene is developing new ways to analyze data that explores the way we learn. He's applying those findings to "digital literacy," tools we need to more accurately understand our changing world. For this and other work, Greene received the 2016 Richard E. Snow Award for Early Contributions from Division 15 of the American Psychological Association
Measuring the effects of isolation
Researcher: Dana Thompson Dorsey
Dana Thompson Dorsey, equipped with a legal training background, has written about the landscape of desegregation and the effects of increasing racial isolation among students in our schools. Now she is building on that work to develop new understandings of the compounded effects of geographic isolation among rural minority students.